Brown Sugar Cookies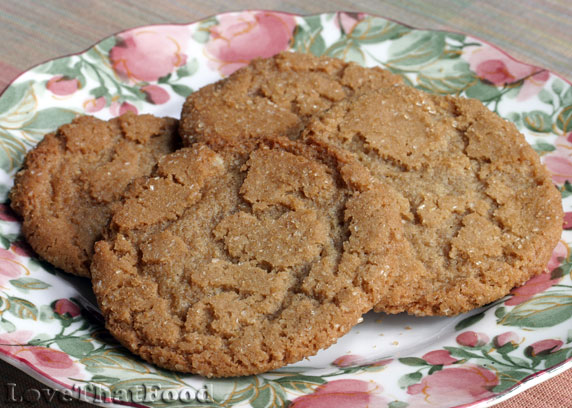 Tips:
Coarse raw sugar is recommended for best results when coating cookies, though regular granulated sugar can be used.
This Brown Sugar Cookies recipe produces a chewy cookie with a wonderful butterscotch-like
flavor, each coated with coarse crystals of raw sugar that gives these cookies a delightful crunch on the outside (regular granulated sugar can also be used, but coarse raw sugar produces the most favorable and attractive result). These cookies get their chewy texture and butterscotch flavor by the use of brown sugar rather than white granulated sugar, as well as the simple technique of browning some of the butter before mixing it into the other ingredients. Perhaps one could think of these cookies as the brown sugar version of a sugar cookie, though these cookies clearly have a chewier and less floury texture than traditional sugar cookies. Both are delicious, but if you haven't yet tried a brown sugar cookie, you'll want to give these a try!
sugar cookies with brown sugar 110 4.22, cookie recipes 90,500 1.20, brown sugar cookies 4400 1.99, brown sugar cookie recipe 1000 2.11, brown sugar cookie 170 2.58, sugar cookies recipe 9900 1.40, sugar cookie recipe 201,000 1.68, brown sugar cookie 170 2.58
Ingredients
Cookie

1 stick plus 6 tablespoons butter (or 14 tablespoons)
2 cups all purpose flour
1 teaspoon baking powder
1 teaspoon baking soda
1 3/4 cups brown sugar
1 tablespoon vanilla extract
1 teaspoon salt
1 egg
1 egg yoke



Sugar Topping

1/3 cup brown sugar
1/3 cup sugar (preferably coarse raw, but regular granulated sugar will work as well)
Directions
Preheat oven to 350° F.

Melt 10 tablespoons of the butter in a sauce pan over medium heat until it turns medium brown in color (about 2-4 minutes). Pour melted browned butter into a large mixing bowl. Add the remaining 4 tablespoons butter to browned butter and stir until melted and thoroughly blended. Set aside for about 15 minutes to allow to cool.

In a separate medium mixing bowl, whisk together flour, baking powder and soda. Set aside.

Add brown sugar to melted butter and mix well. Add vanilla and salt and mix well again, smashing out any clumps. Add egg and egg yolk and mix until well blended.

Add flour mixture to butter, sugar and egg mixture and fold until well blended. Set aside.

In a small shallow bowl, mix together sugar toppings. Scoop out about 1 1/4-inch balls of cookie dough, one-at-a-time, rolling each ball in sugar topping mixture, making sure entire surface is covered. Place on a nonstick cookie sheet or cookie sheet lined with parchment paper about 2 inches apart.

Bake for 12-14 minutes or until cookies turn a light golden brown in color, yet still look slightly underdone. If cookies bounce back when you lightly touch them, or if you are able to life an edge of a cookie slightly, cookies are done.


Other recipes you might like: