Cashew Caramel Cookies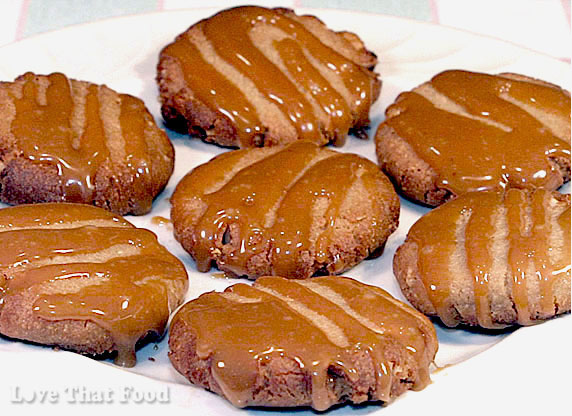 Cook Time:
About 12 minutes
Tips:
See storing method options discussed in recipe.
These Cashew Caramel Cookies are delicious with or without the caramel topping, so if you're not a caramel lover but enjoy cashews, these cookies will deliver! If you are a caramel lover, need I say more?? Cashew Caramel Cookies are made with a
homemade cashew butter that is prepared from actual cashews in your a processor, so these cookies have an undeniable authentic cashew flavor. More coarsely chopped cashews are added to the batter, giving these cookies even more delightful cashew goodness as well as a nice crunch.
These cookies have a heartiness about them, and are mildly sweet but loaded with wonderful flavor. They have a chewy, crumbly crunch that melts in your mouth. Because they are mildly sweet, the caramel topping is not overpowering in terms of sweetness. The flavors of cashew and caramel compliment each other perfectly in this delicious cookie recipe. So, if you're looking for a new cookie recipe that's easy, unique and delicious, this Cashew Caramel Cookies recipe is a great place to start!
Ingredients
1 2/3 cups all-purpose flour
1/2 teaspoon salt
1 9.25-oz. can "whole" or "halves & pieces" salted cashews (or 2 1/2 cups)
2 tablespoons plus 1 teaspoon oil
1 stick (8 tablespoons) butter, softened
3/4 cup packed light-brown sugar
1/2 cup granulated sugar
1 large egg
1 teaspoon vanilla extract
24 cubes (7 oz.) soft caramel candy
1/4 cup heavy cream
Directions
Preheat oven to 350°F.

In a small mixing bowl, sift together flour and salt. Set aside. Coarsely chop 1 cup of the cashews and set aside. Place remaining cashews in food process and process until finely chopped. Add oil and process again until mixture becomes creamy like peanut butter (about 2 minutes).

Transfer cashew mixture, butter and sugars in an electric mixer bowl. On medium speed, mix until mixture becomes fluffy (about 2 minutes). Add egg and vanilla and mix again briefly until blended. Reduce speed to low and add flour gradually, mixing until thoroughly blended. Remove bowl from mixer and add chopped cashews. Mix in cashews with a fork.

Form into 1 1/2-inch balls and place on cookie sheets about 2 inches apart. Bake for 6 minutes, then remove from oven and flatten cookies with a spatula to about 1/2-an-inch thick. Return to oven and cook for another 6-7 minutes or until cookie bottoms are beginning to turn golden brown in color. Transfer cookies to a wire cooling rack and cool completely.

While cookies are cooling, add caramel candies and heavy cream to a small sauce pan and heat on low, stirring frequently. When caramel mixture has completely melted, remove from stove and allow to cool completely. When cookies and caramel icing have cooled, using a spoon, drizzle caramel icing over cookies. If icing becomes a little too firm to drizzle, heat in microwave for about 5 seconds to soften (be careful not to make the caramel too warm and runny).

Store in air-tight containers in single layers. (Note: Icing all the cookies at once and storing in single layers might not work well if you do not have multiple containers. Another easy storage option is to only drizzle the caramel icing over a few cookies at a time, storing them separately from the non-iced cookies. Store the non-iced cookies together (it's okay to stack them), and store the caramel icing in the fridge. When ready to ice another batch of cookies, simply heat the caramel icing in the microwave just enough to make spreadable (but not warm), then ice as many cookies as you want and store separately from the non-iced cookies).
Other recipes you might like: