Cashew Brittle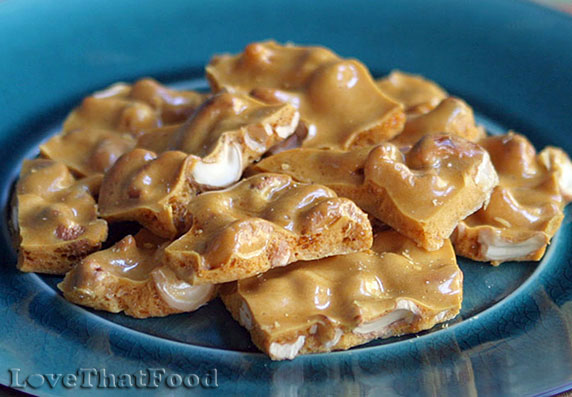 Cook Time:
About 5 minutes
Tips:
After placing your candy in the refrigerator, the sooner you wash your cooking tools, the easier they will be to clean (the candy tends to harden as time passes).
Suggestion:
Great for dessert or any occasion, holidays or for an anytime snack!
This Cashew Brittle recipe has a light crispiness (it's easy on the teeth) and a sweet and salty
flavor that is dangerously addicting! If you have never made candy before, this is a great place to start, because this recipe whips up in about 5 minutes on the stove, and no candy thermometer is needed! Most of us have at one time or another tried peanut brittle - probably the pre-packaged kind that when you bite down makes you wonder whether you broke off a piece of the candy or a piece of your own tooth! Sure, peanut brittle is tasty, but it's hard to get around that "biting challenge." This Cashew Brittle is more porous (check out the large image), giving this candy an airy quality that makes biting into it much easier and more pleasurable - and talk about flavor, once you try this homemade Cashew Brittle, you may never go back to peanut brittle. These shiny amber-colored candies have that flavor and freshness that only homemade candy can provide.
Ingredients
1 cup sugar
1/2 cup light corn syrup
1 1/2 cups roasted and salted cashews
1 teaspoon butter
1 teaspoon baking soda
1 teaspoon vanilla extract
Directions
In a medium saucepan, combine sugar and corn syrup. Heat on medium-high for about 4 minutes, stirring constantly. Stir in cashews and butter. Continue cooking while stirring for 30-60 seconds more, or until the mixture turns light amber in color.

Quickly stir in baking soda and vanilla until mixture becomes light and foamy, then immediately pour onto a greased baking sheet. Using a metal spatula, quickly spread mixture out (to about a 1/2-inch thickness). Refrigerate for about 20 minutes or until set. Break into individual pieces, then store in an air-tight container.
Other recipes you might like: