Fusilli with Ricotta and Cherry Tomatoes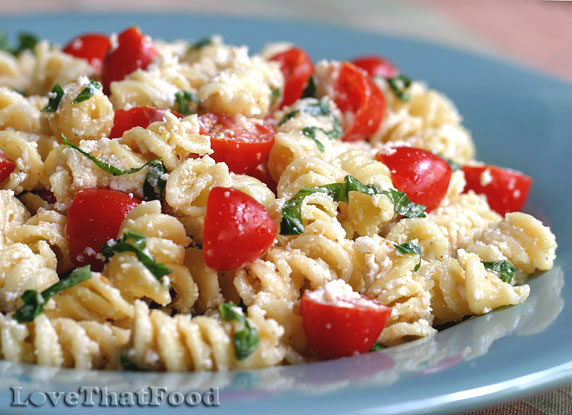 Tips:
May be served as a warm main or side dish, or chilled as a pasta salad. Rotini pasta may be used instead of fusilli pasta.
Suggestion:
Serve as a main course or side dish. Garnish with more Parmesan if desired.
Fusilli with Ricotta and Cherry Tomatoes is a light and fresh pasta dish made with fusilli pasta (also sometimes called "bow tie pasta"), fresh basil, cherry tomatoes, garlic and ricotta and Parmesan cheeses.
This pasta recipe can be served warm (just after the fusilli has been cooked) as a main or side dish, or cold after being chilled in the fridge as a pasta salad.
Fusilli is a long and thick pasta with a twisted corkscrew shape. Fusilli can be found packaged in the long lengths or cut into shorter lengths. If you can't find fusilli in your neighborhood grocery store, you can use rotini pasta for this pasta dish instead, because rotini pasta also has a twisted corkscrew shape, and will hold on to the cherry tomato and cheese mixture just as well as the fusilli. The photo above shows pasta that came in a box labeled "Fusilli," yet as you can see, it looks very much like rotini noodles. In short, fusilli or rotini wll work wonderfully with this pasta salad, because both types of pasta will hold on to the delicious combination of ingredients.
Ingredients
2 cups cherry tomatoes, halved
1 tablespoon minced garlic
12 basil leaves, thinly sliced
1/4 cup extra virgin olive oil
1 lb. fusilli (or rotini) pasta
1/2 cup ricotta cheese
1/2 cup grated Parmesan cheese
1/2 teaspoon salt (or season to your liking)
1/4 teaspoon pepper (or season to your liking)
Directions
In a large mixing bowl, gently toss together halved tomatoes, garlic, basil olive oil, salt and pepper. Cover and refrigerate for 30 minutes or more. When ready to serve, remove mixture from refrigerator and allow to sit while cooking pasta.

Cook fusilli pasta according to package directions in salted water until al dente. Drain, then add to cherry tomato mixture. Add ricotta and Parmesan cheeses and gently toss until combined. Serve immediately or store in refrigerator until ready to serve.
Other recipes you might like: