Noodles with Peanut Sauce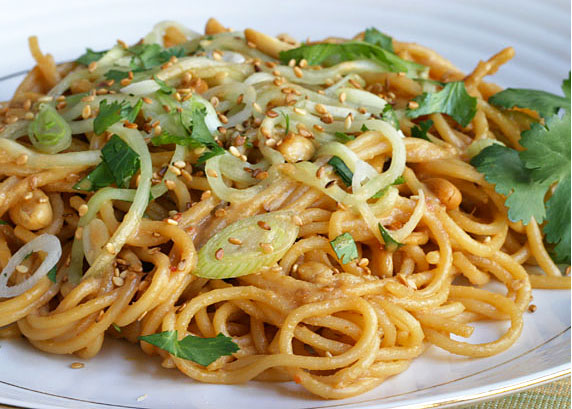 Tips:
Chinese noodles, spaghetti, fettuccine, or linguine noodles may be used with this recipe. Shredded or cubed cooked chicken can also be added to this dish if desired. Peanuts may be toss into noodles with sauce rather than serving as garnish, if desired.
Suggestion:
Garnishes may be served separately to allow guests to choose garnish
This Noodles with Peanut Sauce is full of fabulous flavor and is very easy to make. This dish can be made with Chinese noodles or other long noodles such as spaghetti, fettuccine or linguine. The peanut sauce is made with Tahini (sesame paste), peanut butter, chili paste (an Asian spice), minced ginger root, soy sauce and a number of other ingredients that create the perfect balance of zest and flavor. Once the sauce is tossed with the noodles, garnishes of julienned cucumber, peanuts, sliced green onions, chopped cilantro and sesame seeds are sprinkled over the top. Alternatively, you can serve these garnishes on the side to allow your guests to serve themselves.
While peanut sauce recipes can vary in ingredients and level of spice, most peanut sauces are Asian in origin, including Chinese, Vietnemese and Thai peanut sauces. One secret to this peanut sauce recipe is the chili paste (found in the Asian section of most grocery stores). Whether you prefer a mild or spicy peanut sauce, you can easily manage the spice levels simply by adding or reducing the amount of chili paste you use (though the amount used in this recipe produces a balance of spice and flavor that will appeal to most everyone).
Tips: Before julienning your cucumber, make sure you peel off the cucumber skin, because the skin has a tough texture that won't blend well with the soft noodles. Also, though the seeds are edible, I recommend only julienning the only solid portion of cucumber. If everyone you are serving likes peanuts, you can add the peanuts to the noodles along with the peanut sauce before tossing (rather than serving the peanuts as a garnish). Shredded or cubed cooked chicken can also be added to this dish if desired. Lastly, if you have a large amount of noodles left over, you might want to whip up an extra batch of the peanut sauce and add a little to the noodles when reheating in the microwave, as this will add moisture and renewed flavor.
Ingredients
1 lb. Chinese or other long, thin noodles such as spaghetti, linguine or fettuccine



Sauce

2 tablespoons tahini (sesame paste)
2 tablespoons creamy peanut butter
1 1/2 teaspoons minced or grated fresh ginger root
1/4 cup soy sauce
1 tablespoon plus 1 teaspoon granulated sugar
1 teaspoon hot chili paste (add an extra 1/2 teaspoon if you prefer more spice)
1 tablespoon sesame oil
2 tablespoons white vinegar
1 tablespoon mirin (rice wine) or other dry white wine
3 tablespoons water



Garnishes

1 peeled cucumber, julienned (try to avoid julienning seeds)
1/4 cup thinly (diagonally) sliced scallion (green onion)
1/4 cup chopped fresh cilantro
1/2 cup peanuts
2 tablespoons toasted sesame seeds
Directions
Cook noodles according to package instructions. While noodles are cooking, prepare other ingredients.
Sauce
Whisk together all sauce ingredients in a mixing bowl, then pour into a blender (pre-mixing in a bowl before putting into blender will help prevent tahini and peanut butter from sticking to bottom of blender) and mix briefly on pulse setting about 2-3 times until well blended. Set aside.
Drain cooked noodles, then toss with sauce. Top each serving with garnishes, or serve garnishes on the side to allow each guest to garnish as they personally prefer.
Other recipes you might like: