Macaroni and Cheese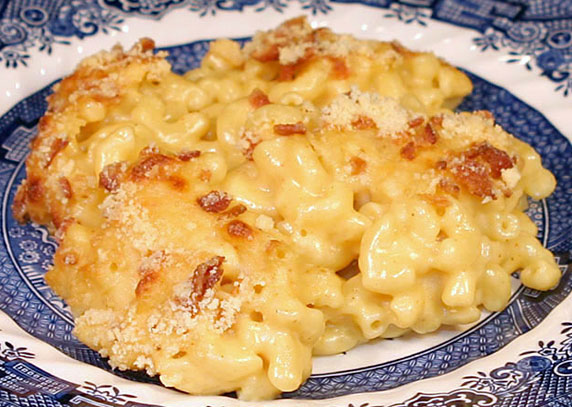 Tips:
If you prefer less spice, you can omit the cayenne pepper and reduce ground pepper to desired amount (though pepper amounts are already minimal).
This Macaroni & Cheese recipe is cheesy and creamy and has just the right blend of spices. Though I consider this recipe flavorful rather than spicy, if you prefer no spice, you can simply omit the cayenne pepper and reduce the black pepper to a desired amount. This cheesy pasta dish is
topped with crumbled bits of bacon and grated Parmesan cheese, producing a delightful and flavorful crunch.
One of the secrets to a great macaroni and cheese recipe is to use a cheddar cheese that suits your personal taste. While some might prefer cheese with a bite, such as aged cheddar or extra sharp cheddar, others might prefer a milder cheddar cheese. You can also make macaroni and cheese with white cheddar, which will produce a lighter color with the same delicious flavor. There are plenty of cheddar cheese varieties out there, but whichever cheddar you choose, this macaroni and cheese dish will be a success. You can also customize this pasta dish by choosing from a variety of pasta shapes. The above photo shows Macaroni & Cheese made with elbow macaroni, but you can also use other shapes such as small, medium or large pasta shells, penne or rotini pasta to name a few.
Ingredients
3 tablespoons butter
1/4 cup all-purpose flour
2 cups milk, warmed
1/2 teaspoon dry mustard
1/8 teaspoon nutmeg
1/8 teaspoon cayenne pepper
1/2 teaspoon salt
1/4 teaspoon black pepper
1 dash hot pepper sauce
1 dash Worcestershire sauce
1 1/2 cups shredded cheddar cheese
1/2 lb. pasta
4 slices bacon, cooked and crumbled into bits
1/4 cup grated Parmesan cheese
Directions
Preheat oven to 350° F.

Cook pasta according to directions. Drain and pour into a large mixing bowl. Set aside.

In a small bowl, mix together dry mustard, nutmeg, cayenne pepper, salt and pepper and set aside near stove. Melt butter in a medium saucepan, then add flour and whisk until thoroughly blended (about 1 minute). Add the warmed milk and whisk over medium-high heat until it starts to boil. Reduce heat to medium and continue to stir until slightly thickened. Add pre-mixed spices, hot pepper sauce and Worcestershire sauce while continuing to stir. Add cheese and stir until melted.

Pour cheese sauce over pasta in mixing bowl and toss until combined. Pour into a buttered 1 1/2-quart casserole dish. Sprinkle bacon pieces then Parmesan evenly over top. Bake for 35 minutes or until top is beginning to brown and casserole is bubbly.
Other recipes you might like: