Cinnamon Toast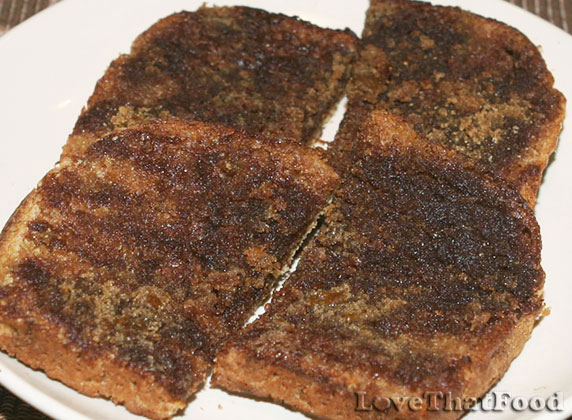 Cook Time:
About 4 minutes
Tips:
Make enough Cinnamon Sugar Mixture to keep with your spices.
Suggestion:
Delicious with a variety of breads.
For those mornings when you need a quick breakfast or simply crave something a little sweet, Cinnamon Toast fits the bill! This Cinnamon Toast recipe features slices of bread topped with a combination of granulated sugar, cinnamon and brown sugar. The toast is toasted twice - the first round is for lightly toasting the cinnamon and granulated sugar,
and the second is for toasting after the brown sugar has been sprinkled on top. (Note: Due to the toppings on the bread slices, you will need to use a toaster oven to keep the bread in a horizontal position. If you don't own a toaster oven, you can use your broiler, though watch the toast carefully!
Almost any type of bread can be used with this recipe, and if you use a fresh unsliced loaf of bread, you can cut the slices a little thick, giving your cinnamon toast slices something you can really sink your teeth into! (Above photo shows cinnamon toast made with pre-sliced whole grain wheat bread.). It is recommended you make the Cinnamon Sugar recipe in a larger amount and store it with your spices for future use (because it also is used with
Cinnamon Rolls
, which you should definitely try at some point!). This Cinnamon Toast recipe is very simple yet very tasty, and is the closest you can get to a cinnamon roll in less than 5 minutes!
Ingredients
1 slice whole grain wheat or any other bread
2 1/2 teaspoons Cinnamon Sugar Mixture (recipe follows)
about 2 teaspoons butter (or as needed)
1-2 teaspoons brown sugar (or as needed)



Cinnamon Sugar Mixture

1 cup granulated sugar
1/3 cup cinnamon


(Note: If you prefer to only make enough Cinnamon Sugar Mixture for one serving, simply mix 1 tablespoon granulated sugar with 1 teaspoon cinnamon.)
Directions
Toast bread in toaster oven until warm and firm, but not yet toasted (about 1-2 minutes). Butter warmed bread, then sprinkle with Cinnamon Sugar Mixture.

Top with brown sugar, and insert back into toaster oven until brown sugar starts to melt (about 1 to 1 1/2 minutes). Be careful not to burn the toast! Cinnamon Toast is best when tender rather than crunchy.
Other recipes you might like: