Cinnamon Rolls with Cream Cheese Icing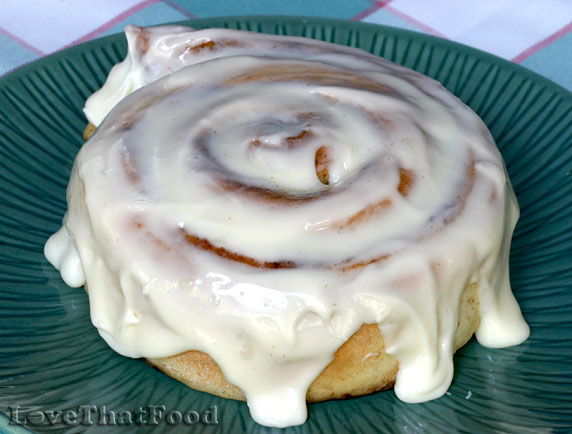 Yield:
12 large cinnamon rolls
Tips:
Milk can be warmed and butter can be melted in microwave or in a saucepan on the stovetop. For freezing and reheating tips, see instructions in recipe.
Suggestion:
Great served for breakfast, brunches, holidays, family gatherings or any social event.
I truly do not believe there is a more delicious cinnamon roll out there! Granted, there are some amazing cinnamon rolls sold in restaurants and cinnamon stands, but with this recipe, you will be able to make a dozen of your own fabulous cinnamon rolls and eat them fresh out of the oven when they are most delicious. The only
ingredient you might have to pick up at the store is cream cheese, because your kitchen will probably already be stocked with all the other ingredients. Plus, if you have any leftover cinnamon rolls, they store very nicely in the freezer (including the icing!) and can be easily warmed up in the microwave when you're ready to eat them. (See recipe for great freezing tips.)
These large and plump cinnamon rolls are made with generous amounts of cinnamon, brown sugar and butter that are rolled up inside a soft dough, then baked to a light golden brown and topped with an incredible buttery cream cheese icing. These cinnamons rolls are always great for breakfast. They are also wonderful for brunches, holidays and family or other any social gatherings. Once you take these amazing rolls out of the oven and slather them with that melt-in-your-mouth buttery cream cheese icing, place them on a serving tray and listen to everyone in the room sing a unison chorus of "Mmmm!!"
Ingredients
Dough

7 cups all-purpose or bread flour
1 cup whole wheat flour
4 eggs
1/2 cup sugar
1 teaspoon salt
2 cups milk, lukewarm
4 oz. butter (1 stick), melted
2 tablespoons yeast



Filling

4 oz. butter (1 stick), softened
2 cups brown sugar
3 tablespoons ground cinnamon
2 tablespoons sugar



Icing

2 8-oz. packages cream cheese, softened
8 oz. butter (2 sticks), softened
4 cups confectioners' sugar
2 teaspoons vanilla extract
2 tablespoons milk
Directions
Mixing Dough
Electric Mixer Method
In a large mixing bowl (not the electric mixer bowl), whisk together by hand all-purpose and whole wheat flours. In an electric mixer bowl (using the whisk attachment), beat the eggs, sugar and salt.
Combine the warm milk and melted butter and add to the egg mixture. (Tip: Milk can be warmed (to lukewarm) and butter can be melted in the microwave or in a saucepan on the stovetop.) Remove whisk attachment from electric mixer and replace with bread kneading attachment. Slowly add 4 cups of the flour mixture and mix on low speed until well-blended. Sprinkle in the yeast and mix on low speed until thoroughly blended. Add the remaining 4 cups of flour and mix on low speed until smooth (about 5 minutes).
Bread Machine Method
Place ingredients in bread machine in the following order:
eggs
sugar
salt
milk with butter
flour
yeast
Place bread machine on "dough" setting, and press "start." Allow bread machine to complete cycle until dough has doubled in size (bread machine will probably beep when dough is ready).
Dough - 1st Rising
Remove dough from electric mixer bowl or bread machine and place on a lightly floured work surface. Knead briefly and form into a ball. Place ball of dough in a large oiled bowl (preferably glass) and cover with plastic wrap. Let the dough rise to double its size (about 1 hour).
Making Cinnamon Rolls & 2nd Rising of Dough
Once ball of dough has doubled, transfer to a lightly floured work surface and briefly knead (about 1 minute). Form dough into a ball. Press dough down to slightly flatten, then use a rolling pin to roll dough into a 1 1/2 x 2-foot rectangle (dough will be about 1/8-inch thick once rectangle is formed). Try to make sure thickness of dough is even throughout to ensure similar-sized cinnamon rolls. Be patient, as this process takes a little time and finessing.
Spread the softened stick of butter over entire surface of rectangle using a rubber spatula, then evenly top with cinnamon, sugar and brown sugar.
With one of the longer rectangle sides facing you, roll up dough. (Tips: Rolling is a little challenging in the beginning, but gets easier as you continue. If dough is thicker in the center, the roll will turn out thick in the middle and smaller on the ends, producing different sized cinnamon rolls. Don't fret about this too much, however, because cinnamon rolls will taste great no matter what size they are.)
Slice roll into about 12 cinnamon rolls (about 1 1/2-inch-thick slices). Place each cut roll onto greased baking sheet. (Tips: Rolls double in size while rising, so keep this in mind when arranging on baking sheet. Large cinnamon rolls should be placed approximately 1 1/2 inches apart.  Cinnamon rolls rise a little more while baking. To avoid drying outer edges of cinnamon rolls while baking, the rolls should be touching each other after baking. However, they'll still be delicious if they brown a little.) Cover with light-weight towels and let rise for about 20 minutes.
Preheat oven to 350° F. while cinnamon rolls are rising.
After rolls have risen, bake for 13-18 minutes, or until the outer edges start to turn light brown. Allow rolls to cool slightly before applying icing.
Icing
Mix cream cheese and butter using an electric mixer or a handheld electric mixer until smooth and creamy. Mix in all other ingredients until smooth. Spread liberally to tops and sides of cinnamon rolls with a knife or rubber spatula . Note: If you intend to serve only some of the cinnamon rolls and freeze the rest, see the freezing instructions below before you apply icing.
Storing Leftover Cinnamon Rolls
It's best to apply icing
only
to the cinnamon rolls you intend to serve, as this makes storing and reheating easier. However, if you have already applied the icing to some or all of the cinnamon rolls, no problem! Simply follow the second set of instructions below.
If you plan on eating the leftover cinnamon rolls within 3 days or so, they can be stored (without icing) at room temperature in an air-tight container, while the icing can be stored in the refrigerator until the expiration date of your milk or cream cheese, whichever comes first. Iced cinnamon rolls must be stored in the refrigerator (do not stack). If you want to store your cinnamon rolls for a longer period, they'll need to be stored in the freezer, following the directions below.
Freezer Storage
Cinnamon Rolls Without Icing Applied
Store un-iced cinnamon rolls in an air-tight container or tightly-sealed food storage bag. To prevent rolls from sticking together while freezing, place pieces of wax paper in between each roll wherever they touch each other (sides and/or tops).
Store leftover icing in an air-tight container in freezer.
Cinnamon Rolls With Icing Applied
Store in refrigerator in air-tight container (do not stack) for 3-4 days. To freeze, store rolls in air-tight container (again, do not stack) with strips of wax paper in between each roll to prevent the sides of rolls from sticking to each other while freezing.
Defrosting and Reheating Cinnamon Rolls
When you are ready to reheat the frozen leftover cinnamon rolls, you can allow them to sit at room temperature to defrost (an hour or so), defrost them at a low temperature in the microwave, or let them sit in the refrigerator overnight.
When ready to heat and serve defrosted or room-temperature rolls (with or without icing), heat in microwave on high for about 20-40 seconds. (Note: Be careful not to overheat, as this will make rolls dry and tough and will over-melt the icing.)
Other recipes you might like: