Banana, Cream Cheese and Oatmeal Muffins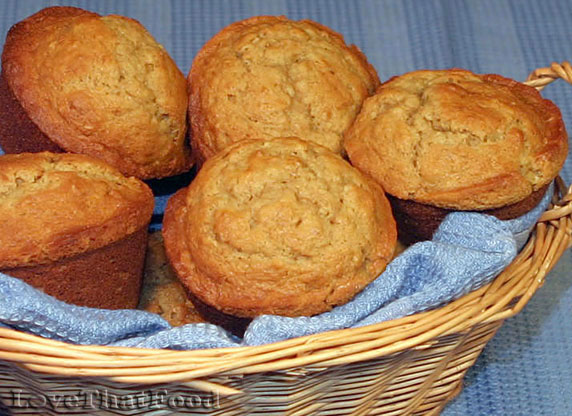 Tips:
Make sure to use ripe and soft bananas.
Suggestion:
Delicious plain or warm topped with butter. You might also like Banana Bread (also made with whole wheat flour.)
These aren't ordinary banana muffins! These Banana, Cream Cheese Oatmeal Muffins are made with cream cheese, giving them moisture and fabulous flavor. They also are made with brown sugar rather than white sugar, a mixture of whole wheat and
all-purpose flour and a generous helping of oatmeal for texture, flavor and healthiness. I created this Banana Cream Cheese Oatmeal Muffin recipe because I wanted to create a banana muffin that was not too floury, was fluffy and moist, and leaned on the healthy side. This banana muffin recipe incorporates all of that!
These banana muffins are incredible hot and steamy, right out of the oven, with or without butter. The muffin tops come out light and slightly crispy, and the insides are unbelievably moist and melt in your mouth. These muffins can be served as a breakfast side dish or by themselves as a quick and easy warm and delicious breakfast (takes only seconds to heat in the microwave). You can make these muffins large or slightly smaller simply by how many muffin cups you fill in the baking sheet. To maintain freshness, I recommend you store them in an air-tight container.
Ingredients
1/2 cup butter, softened
3 oz. package cream cheese
2 ripened bananas
1 cup brown sugar, packed
2 eggs, lightly beaten
1 cup all-purpose flour
1/2 cup whole wheat flour
1/2 cup quick cooking oats
4 teaspoons (1 tablespoon plus 1 teaspoon) baking powder
1 teaspoon soda
1/2 teaspoon salt
Directions
Preheat oven to 350° F.

In an electric mixer bowl, add butter, cream cheese, bananas and sugar. Beat until smooth and creamy. Add eggs and mix until blended. In a separate medium mixing bowl, whisk together flours, oats, baking powder, soda and salt. Gradually add flour mixture to electric mixer bowl ingredients and mix just until thoroughly blended.

Grease a 12-cup muffin pan with butter. Fill 10-12 cups equally with batter (12 cups for smaller muffins, 10 cups for larger muffins). (Muffin cups will fill to 2/3 - 3/4 full, depending on how many cups you fill.) Bake for 20-25 minutes or just until tops turn light golden brown and bounce back when touched lightly in the center.
Other recipes you might like: