Banana Muffins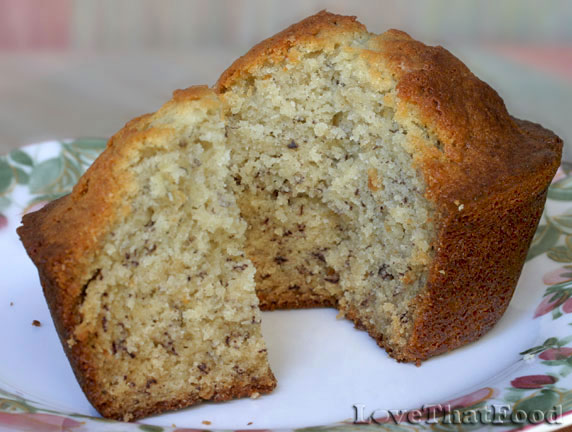 Yield:
6 large muffins or 12 medium-sized muffins
Tips:
Whole wheat flour may be used instead of all-purpose flour. Chopped nuts, such as walnuts may also be added, if desired.
Suggestion:
Delicious fresh out of the oven with or without butter, or at room temperature.
Banana Muffins combine all the flavor and moist, soft
and fluffy texture of traditional banana bread with the convenience and fun of a muffin. These muffins can be made into 12 small or 6 large muffins, and are great served for breakfast, brunch or an anytime snack.. If you enjoy that mildly crispy top crust of homebaked banana bread, these muffins are just for you, with plenty of that wonderful banana bread top! Just like banana bread, these muffins are outstanding fresh and hot from the oven with or without butter, or sliced in half and toasted and topped with butter. This banana muffin recipe is similar to
Whole Wheat Banana Bread
, a wholesome and hearty version of banana bread made with whole wheat flour and some sour cream. This banana muffin recipe uses all-purpose flour, giving these muffins a lighter and more fluffy texture.
Ingredients
2 cups all-purpose flour
1 teaspoon soda
1/2 cup (1 stick) butter, softened
1 cup sugar
2 eggs
2 medium over-ripe bananas, mashed
1/3 cup milk combined with 1 t. lemon juice or vinegar
2 generous tablespoons sour cream
Directions
Preheat oven to 350° F.
In an
electric mixer
bowl, beat butter with sugar and bananas on medium speed until well-blended. Add eggs and mix again until well-blended. In a separate mixing bowl, whisk together flour and baking soda. Add flour mixture to butter mixture, alternating with milk and vinegar mixture, ending with flour mixture. Add sour cream and mix again until well-blended. Using butter or non-stick spray, grease a medium cup or large cup muffin pan and pour mixture equally into muffin cups to about 2/3 full. Bake for 20-30 minutes or until a toothpick or sharp knife inserted into the center of a muffin comes out clean. Remove muffins from muffin pan and place on wire cooling rack to cool.
Other recipes you might like: