Chicken in Cilantro Sauce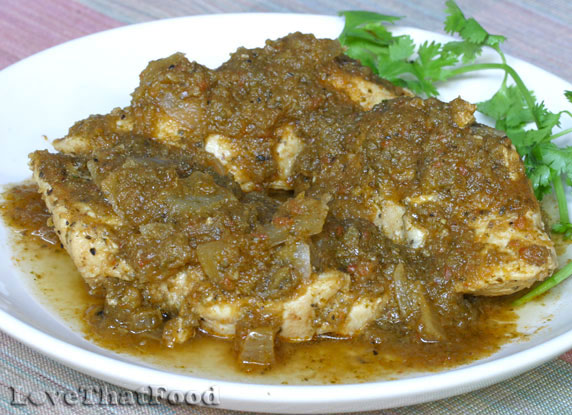 Tips:
If your blender is not powerful enough to puree Cilantro Sauce ingredients, puree in a food processor, then pour pureed ingredients into blender and puree on highest speed.
Chicken in Cilantro Sauce has a very fresh taste with lively flavor, and has an abundance of healthy benefits! This chicken dish begins with
a whole cut-up chicken or any cuts of chicken you prefer, such as boneless, skinless chicken breasts (as shown in photo), or chicken thighs or a combination of both. The chicken pieces are marinated in a tangy blend of red wine vinegar, garlic salt, pepper and oregano while the sauce is being prepared (the marinade is also used to cook with the chicken and sauce). Chopped onions are sauteed with paprika until tender, then the easy Cilantro Sauce is quickly prepared in your food processor (and blender if you prefer an even smoother texture). The Cilantro Sauce is made with a fresh bunch of cilantro leaves, onion, green bell pepper, yellow chile pepper and tomatoes that are finely processed, then poured into a skillet with the chicken, onions and marinade to simmer for about 45 minutes. This easy and delicious chicken dish is fresh, healthy and vibrant!
Ingredients
1 (2 1/2-3-lb. chicken, cut up) or other cuts of chicken, fat removed



Marinade

1 teaspoon oregano
1 tablespoon garlic salt
1 teaspoon black pepper
2 tablespoons red wine vinegar
Cilantro Sauce (recipe follows)



Cilantro Sauce

2 tablespoons oil
1 medium onion, chopped
1/4 teaspoon paprika
1 bunch cilantro, stems removed
1 medium onion, quartered
2 medium tomatoes, quartered
1 green bell pepper, seeded and chopped
1 yellow chile, seeded and stems removed, cut in half lengthwise
2/3 cup water (or more as needed)
Directions
Marinade
In a small mixing bowl, whisk together Marinade ingredients until well blended. Place chicken pieces in a leak-proof plastic bag, then pour Marinade into plastic bag. Gently squeeze out excess air, then tie plastic bag in a tight knot and massage chicken pieces to evenly coat. Allow chicken to marinate at room temperature while preparing Cilantro Sauce.
Cilantro Sauce
(Note: If you have a powerful blender, you can skip the food processor step and put all ingredients directly into blender.) Add to a food processor cilantro, onion, tomatoes, green pepper and chile. Process until ingredients are fully processed. Pour processed ingredients into a blender container and blend on high until smooth. Set aside.
Heat oil in skillet until hot but not smoking. Add chopped onion and sprinkle with paprika, stirring to combine thoroughly. Simmer onions over low heat until tender and golden (about 5-7 minutes), stirring frequently.
Add Cilantro Sauce to skillet and cook for 2 minutes on medium high heat to heat through, stirring constantly. Add chicken pieces and gently press down into Cilantro Sauce. Add water (add more if needed to cover chicken), gently stirring to mix in. Cover and cook on a low, gentle boil over low heat until chicken is tender (about 45-55 minutes). Serve.
Other recipes you might like: