Pesto Chicken Pasta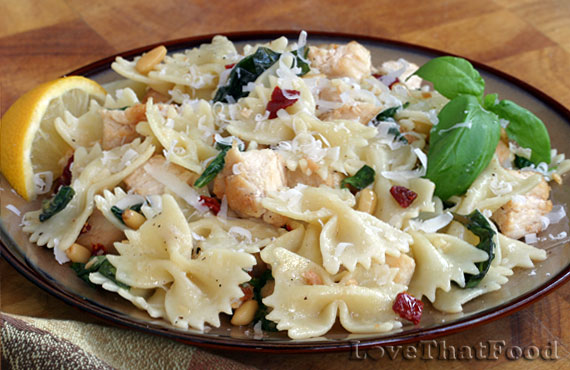 Cook Time:
About 15 minutes
Tips:
May be served warm or chilled. Serve with lemon wedges for squeezing lemon juice over top (some may prefer more than 1 wedge). Top liberally with shredded Parmesan cheese. Basil leaves will shrink substantially when heated.
Suggestion:
Great served as a side pasta dish or a main lunch or dinner. Also great for picnics!
It's nice to know there are healthy pasta recipes that aren't over-loaded with calories. This light and healthy Pesto Chicken Pasta recipe is freshly flavorful, and will leave you feeling satisfied without that heavy, full feeling pasta dishes often deliver - perhaps because of all the rich and heavy (albeit delicious!) sauces that accompany so many pasta dishes. Pesto Chicken Pasta features bow tie pasta combined
with an easy pesto sauce featuring fresh basil leaves, diced sun-dried tomatoes, minced garlic and pine nuts. Before adding the pasta, the pesto sauce ingredients are briefly heated in a skillet with olive oil. The pesto sauce is then tossed with the pasta and chopped chicken. After dishing onto serving plates, what really completes this pasta dish is a generous amount of freshly squeezed lemon juice drizzled over the top, along with (again, a generous amount) some freshly grated Parmesan cheese. When serving, it's a good idea to include each serving plate with one or more wedges of fresh lemon, because it truly does add to the freshness and flavor of this dish.
Traditional pesto recipes are commonly made with fresh basil leaves, olive oil, pine nuts, Parmesan cheese and garlic. This pesto pasta recipe features all those pesto ingredients, only in slightly different form. Pesto Chicken Pasta can be served warm immediately after preparing it, or chilled after storing it in the fridge.
Ingredients
Chicken and Pasta

1 whole (or two halves) boneless, skinless chicken breast
8 oz. bow tie pasta
Pesto Sauce (recipe follows)
salt and pepper to taste
freshly grated Parmesan cheese (for topping)
lemon wedges (for drizzling)



Pesto Sauce

1/4 cup olive oil
1/2 cup fresh basil leaves, packed
olive oil (1 to 2 tablespoons or as needed)
1/4 cup diced dry-pack or jarred (in oil) sun-dried tomatoes, diced
2 tablespoons toasted pine nuts
2 cloves garlic
Directions
Cook pasta according to package directions. While pasta is cooking, cut chicken breast (or chicken breast halves) in half horizontally to reduce thickness. Fry breast (or breast halves) in a large skillet with 1-2 tablespoons of olive oil over medium heat, turning half-way through cooking time to cook through and lightly brown both sides (about 4-5 minutes each side). Cut chicken into 1/2-inch cubes.

If desired, wipe skillet clean with a few paper towels (the small bits and pieces left behind from cooking the chicken will actually add flavor to this dish). To the skillet, add the chopped chicken and Pesto Sauce ingredients and heat over low-medium heat for about 2-3 minutes, stirring frequently. (Note: Basil leaves will shrink considerably as you heat them.)

Add cooked pasta to chicken and Pesto Sauce mixture and toss to combine. Salt and pepper to taste, then serve immeditely with 1 or more lemon wedges on the side (for drizzling over the top). Top generously with freshly grated Parmesan cheese.

Tip: To serve chilled, simply place cooked pasta, chicken and Pesto Sauce mixture in a covered bowl or container in the refrigerator until chilled or ready to serve. Once dished onto serving plates, garnish each serving with 1 or more lemon wedges and top generously with Parmesan cheese.
Other recipes you might like: