Pesto Penne with Grilled Chicken and Sun-Dried Tomatoes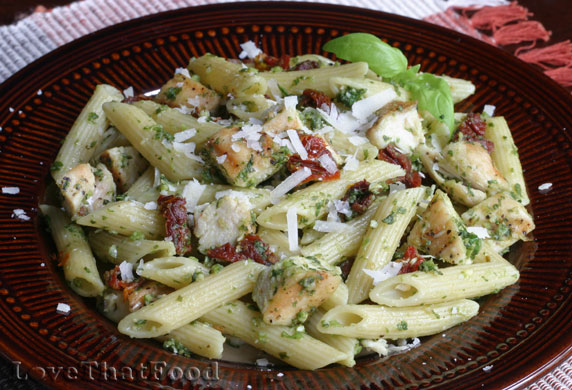 Cook Time:
11 minutes (if cooking chicken and pasta at the same time)
Tips:
If desired, 2/3 cup of lightly toasted walnuts can be tossed into the pasta mixture.
If you're looking for healthy chicken pasta recipes, this light and healthy pasta dish certainly delivers! This penne pasta recipe features cooked penne pasta, grilled chicken, homemade pesto and chopped sun-dried tomatoes. These tasty ingredients are tossed together, and once dished onto serving plates, are topped with freshly grated Parmesan cheese. (Note: If you don't have any fresh bulk Parmesan cheese handy, you can use the pre-grated Parmesan that traditionally comes in plastic jars.)
If you'd like to add some variety as well as a little more flavor and protein to this pasta recipe, you can add 2/3 cup of lightly toasted walnuts, which add a nice crunch! (Tip: To toast walnuts, simply place on a baking sheet in a single layer in a 350° oven for about 8-10 minutes, watching closely to ensure they do not burn.)
The homemade pesto for this pasta recipe
is very basic and easy, and doesn't call for pine nuts as many pesto recipes do, though still has that wonderful recognizable tangy, fresh flavor that basil pesto offers. When selecting sun-dried-tomatoes, you can use either the sun-dried tomatoes that come in a jar, packed in oil, or you can opt for the dry type that come in packages. The sun-dried tomatoes that come packed in oil might be your best bet, because they provide a little welcomed moisture and tenderness.
When it comes to grilling chicken for this recipe, there are a few options. Not all indoor grills are created equally. Some grills do not have a top cover, necessitating the meat to be manually turned half-way through the cooking process in order to grill both sides. Other grills might have top and bottom grilling grates, allowing you to close the grill and cook the tops and bottoms of your chicken at the same time, reducing the cooking time by half. Some stovetops have built-in grills, while using a grilling pan is also an option. Even if you don't own any type of indoor grilling equipment, you can cook your chicken in a pan with a little oil, or even broil it if you like (though this might produce slightly drier chicken). Keep in mind, however, that grilling the chicken will give it that nice grilled look with those attractive linear grill marks, while sealing in some of the chicken's natural juices.
Ingredients
3 cups packed fresh basil leaves
3 large garlic cloves
1/3 cup olive oil
1/3 cup freshly grated Parmesan cheese, plus more for topping
salt and pepper
4 boneless, skinless chicken breast halves
1 lb. penne pasta
1/2 cup chopped sun-dried tomatoes
Directions
Place basil leaves and garlic in a food processor or blender and process until a coarse paste forms (about 10-15 seconds). With the machine still running, drizzle in olive oil through the top opening until a smooth paste has formed, Transfer mixture to a bowl and stir in Parmesan cheese, then season to taste with salt and pepper. Set aside.
Preheat grill to medium. (Note: If using an indoor grill with top and bottom grill grates, preheat both.) Once preheated, coat the grill(s) lightly with cooking spray. Sprinkle chicken with salt and pepper to taste, then place on grill. Grill for about 5 minutes per side or until done. (Note: For grills with a closeable top, close and cook for a total of about 5 minutes or until done).
While chicken is grilling, cook pasta according to package instructions. Drain and transfer to a large
mixing bowl
.
Cut grilled chicken into bite-size pieces and cover with aluminum foil to keep warm.
In a large bowl, combine cooked penne pasta, homemade pesto, chicken and sun-dried tomatoes. Gently toss until evenly coated. Top each serving with freshly grated Parmesan cheese.
Other recipes you might like: