Chicken and Wild Rice Casserole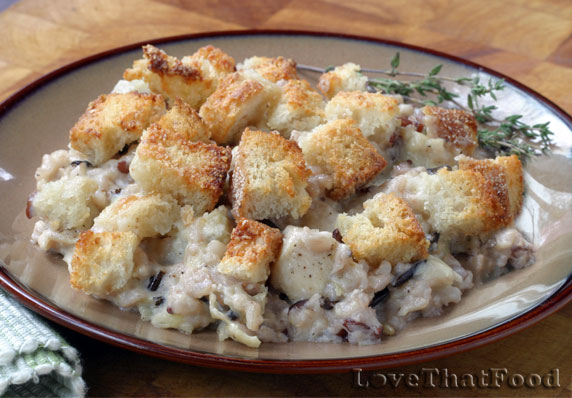 Tips:
If desired, chopped onions, sliced mushrooms and broccoli florets may be added along with the artichoke hearts, or any combination of these vegetables as desired. See recipe description for instructions.,
This Chicken and Wild Rice Casserole recipe has a creamy, cheesy consistency and flavor, and the wild rice blend and toasted Parmesan sourdough bread cube topping give it lively texture! This casserole will please all ages and leave big hunger feeling very satisfied. Along with all the other tasty ingredients, this casserole recipe features chunks of chicken breast and chopped artichoke hearts, making a fabulous combination of flavors.
This recipe is also versatile, because chopped onions, sliced mushrooms and/or broccoli florets can be added along with the artichoke hearts, if desired. To add chopped onions and/or mushrooms to this casserole,
as soon as the chicken chunks have been cooked, simply remove them from the skillet, then add 1/2 cup chopped onions and 4 oz. mushrooms (cleaned and sliced) to the skillet, then sautè in the juices left behind from cooking the chicken for about 8 minutes or until tender. If you like your broccoli somewhat tender, simply steam 1 cup of broccoli florets (fresh or frozen) for about 3 minutes, then fold into the casserole along with the artichoke hearts. If you like broccoli florets with a firmer texture, simply fold them in with the artichokes in their raw state. (Note: If you use chopped onions, you can omit the onion powder from this recipe.) That's it! Having said that, I made this Chicken and Wild Rice Casserole using just aritchoke hearts, and it had terrific flavor.
This casserole recipe is also great for leftovers. To reheat, the best method is to bake in your regular oven (as opposed to the microwave), because the microwave won't bring the bread cubes to a crispy state. Simply preheat your oven to 375° F, and cook in an oven-safe casserole dish or even a bread pan, and cook until the casserole is sizzling and the bread cubes are crunchy again - about 10-15 minutes. Of course, feel free to top your casserole with additional Parmesan cheese, if your heart so desires.
Ingredients
Casserole

1/4 cup butter
1 lb. boneless, skinless chicken breasts, cut into 1/2-inch cubes
salt and pepper (for seasoning chicken)
1 13 or 14 oz. can artichoke hearts, quartered
1/2 cup dry white wine
1/4 cup all-purpose flour
1 cup chicken broth
1 cup milk
1 1/2 teaspoons whole-grain mustard
1/4 teaspoon onion powder
1 cup wild rice blend, cooked according to package directions
4 oz. fontina cheese, shredded
1/4 cup shredded Parmesan cheese
1/2 cup sour cream
2 sprigs fresh thyme leaves, stems removed (or 1/4 teaspoon dry thyme leaves)
salt and pepper to taste



Topping

2 cups cubed sourdough bread (1/2-inch cubes)
4 tablespoons (1/2 stick) melted butter
1/4 cup grated Parmesan cheese
Directions
Casserole
Preheat oven to 350°F. Spray a 1.5-quart baking dish with nonstick cooking spray.
In a large skillet, melt butter over medium heat. Season cubed chicken with salt and pepper and add to skillet. Cook, stirring occasionally, for about 6-8 minutes or until cooked through. (Note: At this point, if you would like to add mushrooms, onions and/or broccoli florets to this casserole, see recipe description above for instructions.)
Add wine and cook for an additional 5 minutes, or until almost all the liquid has evaporated.
Sprinkle flour over the chicken and wine mixture and cook for 2 minutes, stirring constantly. Gradually add broth, milk, mustard and remaining salt and pepper. Stir constantly until mixture is creamy with no lumps. Bring to a gentle boil, then reduce heat to low and simmer for 8 minutes, stirring occasionally.
Gently fold in chopped artichoke hearts, rice, cheeses, sour cream and thyme. Salt and pepper to taste, then spoon the mixture into the prepared casserole dish.
Topping
Place bread cubes in a medium
mixing bowl
, then drizzle with melted butter and toss. Add Parmesan cheese and toss again, then evenly arrange bread cubes on top of casserole. Bake for 30-40 minutes or until hot and bubbly and bread cubes have turned crispy and golden brown in color.
Other recipes you might like: