Turkey Broccoli Casserole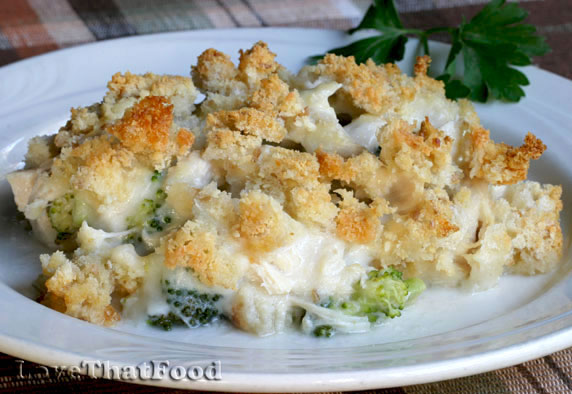 Tips:
If preferred, other vegetables may be used instead of broccoli florets, such as cauliflower, broccoflower, carrots, or assorted vegetables, as long as vegetables are cooked to tender crisp and are not overcooked before adding to the casserole dish.
Suggestion:
Delicious served as a lunch or dinner.
Whether you're lookng for some great leftover turkey recipes to use up some of that leftover turkey after the Thanksgiving holiday, or would like to make a turkey dish simply because you enjoy turkey, this turkey casserole recipe will pleasantly surprise you - not only because of how easy it is to prepare, but how fabulous it tastes!
This Turkey Broccoli Casserole recipe can be made with turkey you cooked in your own oven, or it can be made using frozen julienne turkey from the freezer section of your grocery store. (Julienne turkey are small, thin bite-size slices of cooked turkey that work very well with casserole dishes.) If you don't want to take the time to cook your own turkey,
making this casserole dish with frozen pre-cooked turkey is a great way to go. Alternatively, this turkey recipe can also be made with chicken if you prefer.
This turkey dish is incredibly easy to make. First, a layer of steamed tender-crisp broccoli florets are placed in the bottom of a casserole dish (fresh or frozen broccoli can be used). Next, a delicious creamy Swiss cheese sauce is whipped up on the stove in just minutes, beginning with a butter and flour roux. Some milk is stirred in until it thickens, then a generous amount of grated Swiss cheese is added. The turkey strips are then added to the sauce, and the sauce is poured over the broccoli florets. To perfectly top off this tasty mixture of ingredients, soft bread crumbs (torn from fresh bread) are tossed with some Parmesan cheese and butter, then are sprinkled over the top of the casserole. (The above photo shows the bread crumb topping made with sour dough bread, though any bread you prefer can be used.) After only 20-30 minutes in the oven, this casserole turns hot and bubbly, and the cheesy bread crumb topping crisps and turns a beautiful golden brown. So, whether you intend to make this turkey dish because you need to make use of some Thanksgiving turkey leftovers or would simply like to try a new turkey casserole dish, you're in for a real treat!
Ingredients
Casserole

8-10 oz. fresh broccoli florets (about 2 cups) (or 1 10-oz. package frozen broccoli)
1 tablespoon freshly squeezed lemon juice
2 tablespoons butter
2 tablespoons flour
1/2 teaspoon salt
2 cups milk
1 cup shredded Swiss cheese
2 cups sliced cooked turkey (about 1-2 inches long by 1/4-1/2 inch wide, fresh cooked or frozen packaged)



Bread Crumb Topping

2 cups soft bread crumbs (fresh bread torn into small pieces)
1/2 cup grated Parmesan cheese
2 tablespoons butter, melted
Directions
Casserole
Preheat oven to 350°F. Butter a 9x9x2-inch casserole dish (preferably glass).
For frozen broccoli, cook according to package directions. For fresh raw broccoli, bring about 1 inch of water to a boil in a saucepan. Place broccoli florets in a
vegetable steamer
and if using fresh raw broccoli, briefly rinse under cold running water to clean. Once water comes to a boil, place vegetable steamer with broccoli in saucepan and cover. Reduce heat to medium and steam broccoli florets for 4-5 minutes. Immediately remove vegetable steamer with broccoli from saucepan. Pour broccoli florets into a
mixing bowl
. Pour lemon juice over broccoli and gently toss to coat. Pour broccoli florets into buttered casserole dish and evenly spread around. Set aside momentarily.
In a medium saucepan, melt butter. Once butter is melted, whisk in flour and salt until well blended. Stir in milk and whisk until again until blended. Cook on medium heat, stirring constantly, until mixture thickens and bubbles. Immediately remove saucepan from heat and add Swiss cheese, stirring until melted. Add turkey slices to milk and cheese mixture and briefly stir to coat. Spoon mixture over broccoli. Top with Bread Crumb Topping (recipe follows), then bake for 20-25 minutes, or until casserole is heated through and bubbly and topping is golden brown and crispy. Serve immediately.
Bread Crumb Topping
Mix together bread crumbs and Parmesan cheese, then stir in metled butter. Sprinkle bread crumbs evenly over top of casserole.
Other recipes you might like: