Lemon Cheesecake Bars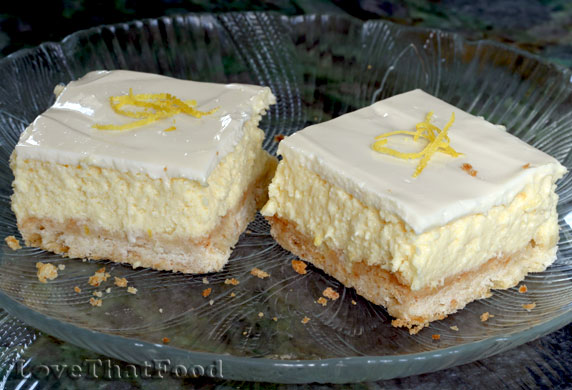 Yield:
15-18 servings, depending on size of bars
Tips:
If desired, top each serving with small amounts of lemon zest for decoration.
Suggestion:
A perfect dessert for parties and social events, or anytime!
Does the idea of making cheesecake sound a little too involved and time-consuming to you? Well, these Lemon Cheesecake Bars will ease your mind, because they are one of the easiest cheesecake recipes you'll ever encounter! Because they're bars rather than a whole cheesecake, the baking time is much shorter. Even better, the entire
cheesecake mixture is blended in your blender in just seconds. It doesn't get much easier than that!
These Lemon Cheesecake Bars begin with a buttery, flaky crust that melts in your mouth. The crust has some graham cracker crumbs mixed in for added flavor. Once the crust is baked, you simply pour the blended cheesecake mixture over the top of the partially baked crust, then bake again until the cheesecake sets (only 15 minutes). Once the baked cheesecake has cooled, a slightly sweetened sour cream mixture is spread over the top. At that point, simply pop the baked cheesecake in the fridge to chill completely, then remove and cut into individual bars. If you'd like to add a decorative effect and some more lemon flavor and color, you can top each bar with a pinch of lemon zest. Fair warning - these Lemon Cheesecake Bars are very hard to resist!
Ingredients
Crust



1 3/4 cups all-purpose flour
1/4 cup graham cracker crumbs
1/2 cup powdered sugar
1 cup (2 sticks) butter, softened



Filling

1 8 oz. package cream cheese, at room temperature
2 eggs
1 5-oz. can evaporated milk (2/3 cup)
1/2 cup granulated sugar
1 tablespoon all-purpose flour
1 tablespoon freshly squeezed lemon juice
2 teaspoons lemon zest (grated lemon peel) - optional



Topping

1 cup sour cream
3 tablespoons granulated sugar
1 teaspoon vanilla extract
Directions
Crust
Preheat oven to 350° F.
In a medium
mixing bowl
, whisk together flour, graham cracker crumbs and powdered sugar. Cut sticks of butter in half lengthwise, then cut each half into 1/2-inch slices and add to flour mixture. Cut in butter with a
pastry blender
or two knives until mixture resembles coarse crumbs. Press mixture onto bottom and 1-inch up sides of ungreased 13 x 9-inch baking pan and bake for 25 minutes.
Filling
While crust is baking, place cream cheese, eggs, evaporated milk, granulated sugar, flour, lemon juice, and lemon zest in a blender container. Cover and blend until smooth. Pour mixture into partially baked crust, then return to oven and bake for an additional 15 minutes or until cheesecake mixture is set. Place baked cheesecake on a wire rack and allow to cool.
Topping
In a small
mixing bowl
, combine sour cream, sugar and vanilla and stir until smooth and well combined. Once cheesecake mixture has cooled, spread sour cream mixture evenly over top of cheesecake. Refrigerate until chilled. Cut into 15-18 bars. Decorate with small amounts of lemon zest on each bar, if desired.
Other recipes you might like: