Lemon Cream Cheese Pie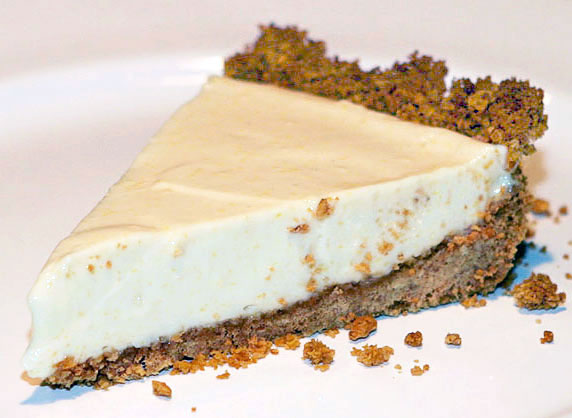 Yield:
1 pie or 8 servings
Cook Time:
15 minutes (for crust only)
Tips:
You can also use a prepared graham cracker crust pie shell found in grocery stores, though homemade is recommended.
Suggestion:
Serve with fresh berries and/or whipped cream if desired - though delicious alone!
Lighter than a cheesecake yet with similar fabulous flavoring and a tangy lemon accent from freshy squeezed lemon juice and some lemon zest, this creamy
and delicious Lemon Cream Cheese Pie recipe produces a refreshing and delicious pie that requires no baking! (Note: If you enjoy the flavor of
homemade graham cracker pie crust
, then there will be a short baking time of about 15 minutes for the crust only. Alternatively, you can purchase a pre-made graham cracker pie crust from the store to entirely eliminate the need for any baking.)
The creamy pie filling requires no baking and is very easy to make, requiring a quick blending of ingredients. Once blended, simply pour the mixture into the pie crust and refrigerate overnight. When ready to serve, this pie may be topped with fresh berries and/or whipped cream, if desired.
Ingredients
Pie crust

1 1/2 cups graham cracker crumbs
1/2 cup sugar
4 tablespoons (1/2 stick) melted butter



Pie Filling

1 (8-ounce) package cream cheese, at room temperature
1 (14-ounce) can condensed milk
1/2 cup fresh lemon juice
3 1/2 tablespoons lemon zest, divided
1 teaspoon vanilla extract
1 1/4 cups heavy cream
2 tablespoons confectioners' sugar
Directions
Position rack in center of oven, then preheat oven to 350° F.
Pie crust
In a medium bowl, mix together the graham cracker crumbs, sugar, and melted butter until mixture resembles wet sand. Using your hands, firmly press the mixture across the bottom and up the sides of a 9-inch pie pan. Bake until the crust is golden brown and firm (about 15 minutes). Remove the crust from the oven and transfer to a wire rack to cool completely before filling.
Pie Filling
In an electric mixer bowl, add cream cheese, condensed milk, lemon juice, 3 tablespoons of the lemon zest, and vanilla. Mix on medium speed until smooth. Pour into the cooled pie crust. Refrigerate overnight.
Other recipes you might like: