Lemonade Ice Cream Pie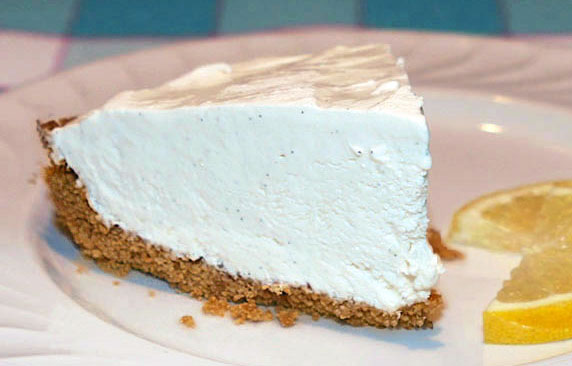 Yield:
1 pie or 6-9 servings
Cook Time:
10-15 minutes (for pie crust only)
Tips:
Yellow or pink lemonade concentrate may be used.
Suggestion:
Garnish with thin slices of lemon or lemon zest, if desired.
This Lemonade Ice Cream Pie recipe features a cold, tart and very refreshing pie that is a cinch to make and requires no baking! This ice cream pie is
delicious anytime of year, but especially hits the spot on a hot summer day.
This lemonade pie recipe is made with only three ingredients - lemonade concentrate, vanilla ice cream and a tub of whipped topping. (Note: Yellow or pink frozen lemonade concentrate can be used with this recipe.) These three ingredients are gently folded together, then poured into a
homemade graham cracker pie crust
. (Alternatively, you can purchase a pre-made graham cracker pie crust from the store, which will eliminate the need for any baking (though the homemade pie crust will give your pie that true, homemade flavor and only takes 10-15 minutes in the oven.) After a few hours in the freezer, the pie is ready to serve. If desired, garnishes of thinly sliced lemon or lemon zest can be placed on the pie for added eye appeal.
Ingredients
1/2 can (6 fluid oz.) frozen lemonade concentrate
1 pint softened vanilla ice cream
1 8 oz. tub whipped topping (or 3 1/2 cups), thawed
graham cracker pie crust (recipe follows)



Graham Cracker Pie Crust

1 1/2 cups graham cracker crumbs
1/2 cup brown or granulated sugar
4 tablespoons (1/2 stick) melted unsalted butter
Directions
Graham Cracker Pie Crust
Preheat oven to 350° F.
In a medium bowl, whisk together all ingredients until mixture resembles wet sand. Using your hands, gently but firmly press the mixture across the bottom and up the sides of a 9-inch pie pan, gently flattening the top edge all the way around.
Bake for 10-15 minutes or until the pie crust is golden brown and firm. Remove the pie crust from the oven and carefully transfer to a wire rack to cool completely before filling.
Pie Filling
Place lemonade concentrate in a large mixing bowl and smash up with a firm rubber spatula for about 30 seconds. Spoon in softened ice cream and blend with the rubber spatula. Fold in whipped topping with the same spatula and continue blending and folding until smooth. Pour mixture into pie crust and smooth around evenly. Freeze until firm (about 4 hours). Keep pie stored in freezer.
Other recipes you might like: