Key Lime Yogurt Pie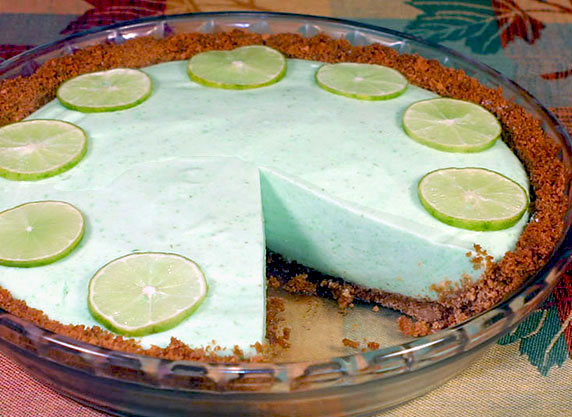 Tips:
This pie can also be made with lemon. See recipe description for details.
Suggestion:
Top with a dollop of whipped cream if desired.
Key Lime Yogurt Pie is a light and refreshing dessert made with key lime yogurt, key lime-flavored gelatin, whipped cream and the juice and zest of key limes. The filling has a creamy consistency with a little added "bounce" from the gelatin.
This recipe uses a delicious homemade graham cracker pie crust that is very easy to prepare and cooks in only 10-15 minutes. If desired, you can instead purchase a pre-packaged graham cracker pie crust from the store, though homemade is recommended for the best flavor and texture.
What is the difference between key limes and limes? Key limes are smaller, have a thinner peel, and more potent flavor than regular limes. This pie can be made with regular limes, though there you might notice a subtle difference in the flavor. This delightful pie can also be made with lemon, simply by using lemon-flavored gelatin and yogurt instead of the key lime flavors, and by using freshly squeezed lemon juice and lemon zest instead of the key lime juice and zest. Both key lime and lemon will produce a light and refreshing dessert.
Ingredients
Pie Crust

1 1/2 cups graham cracker crumbs
1/2 cup brown or granulated sugar
1/3 cup melted butter



Filling

3/4 cup boiling water
1 (3-oz.) package key lime gelatin
juice and zest of 2 key limes
1 pint key lime yogurt
1 cup whipping cream
2 tablespoons powdered sugar
1 prepared graham cracker pie crust (recipe follows)
8-9 thin slices of key lime
granulated sugar
additional sweetened whipped cream
Directions
Preheat oven to 350° F.
Pie Crust
In a medium bowl, whisk together all ingredients until mixture resembles wet sand. Using your hands, gently but firmly press the mixture across the bottom and up the sides of a 9-inch pie pan, gently flattening the top edge.
Bake until the pie crust is golden brown and firm (about 10-15 minutes). Remove the pie crust from the oven and carefully transfer to a wire rack to cool completely before filling.
Filling
Pour boiling water into a medium mixing bowl. Sprinkle in gelatin. Stir continuously until dissolved. Place bowl of gelatin over a larger bowl partially filled with ice water. Stir gelatin mixture until thickened yet still creamy (but not set - try to avoid gelatin chunks forming by continuous stirring and scraping from sides of bowl). Stir in key lime juice, key lime zest and yogurt and gently mix until well blended.
Whip cream with powdered sugar until it forms stiff peaks. Gently fold whipped cream into yogurt mixture and continue gently folding until fully blended. Pour yogurt mixture into cooled pie crust. Place in refrigerator and chill until set (about 4 hours).
When ready to serve, evenly arrange key lime slices around edge of pie and sprinkle a little granulated sugar on each. (Note: You arrange key lime slices any way you prefer, such as in an upright position.) Top with a dollop of whipped cream if desired.
Other recipes you might like: