Cookies and Cream Pie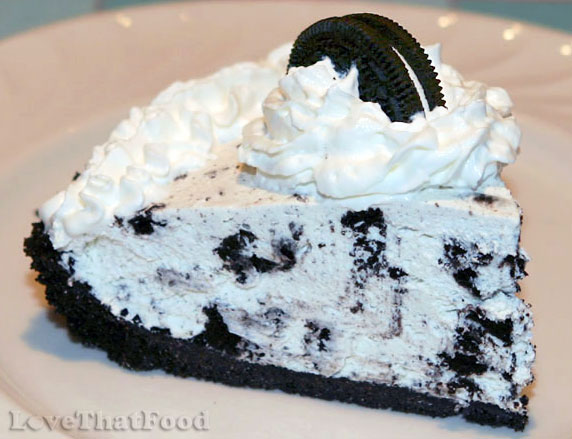 Tips:
You can skip the step of making your own pie crust and buy a premade pie crust if you prefer, though homemade pie crust is more flavorful and recommended.
Cookies and Cream is a very popular flavor combination these days, and you can find it in a variety of foods such as ice cream, milkshakes, candy, cakes, and of course, pie. It originally began when someone discovered how delicious chocolate wafer cookies tasted with ice cream. Since
then, it has expanded into a large variety of foods.
It's hard to resist this creamy and delicious Cookies and Cream Pie! It combines the well-loved flavors of whipped cream and cream cheese, then adds to that chunks of crumbled chocolate wafer sandwich cookies. This delicious pie filling is then poured into a baked Chocolate Wafer Pie Crust and chilled in the refrigerator for only a couple hours. When you're ready to dive into this delightful treat, get your can of whipped cream ready (or you can whip your own using whipping cream) and a few of those chocolate sandwich cookies (such as Oreos), and add the finishing touches that will have everyone gathering around for their slice! Cookies and Cream Pie is extremely simple to make, and only uses a few ingredients. It is always a hit at kids' parties, gatherings, or simply because you'd like to treat yourself to something sweet.
Ingredients
Chocolate Wafer Pie Crust

(Note: If desired, You can skip this step and purchase a premade chocolate pie crust - though homemade is easy, and is recommended for the best flavor).
1 1/2 cups chocolate wafer cookie crumbs (found in baking isles of grocery stores)
2 tablespoons granulated sugar
1/3 cup butter, melted
1 aerosol can whipped cream (optional garnish)



Pie

12 chocolate wafer sandwich cookies, such as Oreos
8 oz. cream cheese, softened
1/3 cup sugar
1 8-oz. tub of whipped topping, such as Cool Whip
Directions
Chocolate Wafer Pie Crust
(Note: Skip this step if using packaged pre-made pie crust.)
Preheat oven to 350° F.
To a medium mixing bowl, add cookie crumbs, sugar and melted butter. Stir or whisk until mixture is thoroughly blended and has the texture of wet sand.
Pour the chocolate crumb mixture into a 9-inch pie pan and press with your fingers or the back of a large spoon on bottom and sides of pie pan to make a firm crust. Place in oven and bake for 10 minutes. Remove pie crust from oven and cool on a cooling rack.
Pie
In a small bowl, break up 12 of the chocolate sandwich wafer cookies into about 1/2 pieces. Set aside. In a medium bowl, combine cream cheese and sugar and beat with an electric hand mixer until light and creamy. Add in the whipped cream and broken cookie pieces and fold until whipped cream is fully blended in with cream cheese mixture.
After pie crust has completely cooled, spoon mixture into the pie crust and refrigerate about 2 hours or until firm.
Optional garnish: When ready to serve, cut 4 cookies in half, trying not to crumble them (though if you do, no worry, because you should still have plenty more cookies left over). Apply whipped cream from can around entire edge of pie, then apply a dollop of whipped cream on the center of each individual serving (about 2 inches in diameter) and place 1/2 of a cookie in the dollop, cut side down and pointing towards center of pie (see photo for example). Serve.
Other recipes you might like: