Apple Tart with Crumb Topping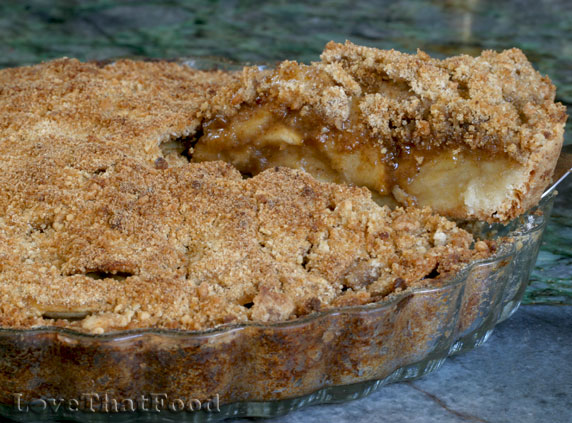 Tips:
To create the perfect flaky pie crust, press pie crust mixture into pan just firmly enough to retain its shape, yet still retaining its flaky, crumbly texture.
Suggestion:
Delicious warm from the oven or at room temperature. served ala mode with a scoop of vanilla ice cream and/or whipped cream.
At first glance, this Apple Tart with Crumb Topping might look just like apple pie with crumb topping. Truth be told, when it comes to flavor, texture and the ingredients that make up the apple pie filling, the two are actually very similar! One of the subtle differences between apple tart recipes and apple pie recipes is likely the thickness of the apple slices and how those slices are arranged in the pie crust. Apple slices in apple pies are usually cut to about a 1/4-inch thickness, and can be randomly placed in the pie crust. In an apple tart, the apple
slices are cut to only about a 1/8-inch-thickness, and are more carefully arranged in an aesthetic repetitive (usually circular) pattern. Also, while apple pies feature a pie crust over the top of the pie, apple tarts do not. This is so the pretty pattern of the arranged apples in the apple tart can be exposed, making an elegant presentation. Apple tarts with crumb toppings are an exception to that rule, however, because the nicely arranged apples will still be able to peek through the crumb topping. Of course, apple pies can also be made with apple pie crumb topping as well. Lastly, while apple tarts virtually have a flat top, apple pies can sometimes have quite a large mound at the top due to the plentiful apples that lie beneath the top pie crust!
When it comes to Thanksgiving desserts and Christmas desserts, just like apple pie, this Apple Tart with Crumb Topping is a fabulous recipe will wow everyone. The bottom line is, whether you're looking for an easy apple pie recipe or an apple tart recipe (just as easy!), both will deliver amazing flavor and presentation, and both are the perfect dessert to serve all year-round. Lastly, don't forget to have some vanilla ice cream handy so you can serve this delicious apple tart ala mode!
Ingredients
2 cups all-purpose flour
3/4 cup confectioners' sugar
pinch of salt
3/4 cup butter, softened
1 teaspoon vanilla extract
1/2 cup packed light brown sugar
1/2 teaspoon ground cinnamon
1/4 teaspoon ground cloves
2 lbs. fuji apples
Directions
Preheat oven to 375° F.
In a
food processor
, combine flour, confectioners' sugar and salt and pulse briefly to blend. Cut butter into 1-inch pieces and add to the processor along with the vanilla extract. Pulse again until the butter is well-blended with the flour and the mixture has the texture of coarse sand with a few small pebbles.
Set aside 1 cup of the mixture, then pour the remaining mixture into a 10-inch deep-dish pie pan. Press the dough gently onto the bottom and sides of the pan, pressing just enough to retain its shape yet still have a flaky quality. Tip: If your fingers stick to the dough, lightly dust them with flour as needed.
Add brown sugar, cinnamon and cloves to the reserved 1 cup of dough mixture. Stir to blend.
Peel and core the apples, then cut them into 1/8-inch-thick slices (Tip: A
mandoline slicer
will make slicing apples into uniform slices much easier). Arrange apple slices in the tart shell in even layers. After every 3 layers, sprinkle 2 tablespoons of the brown sugar, cinnamon and clove mixture evenly over the apples. Arrange the final layer of apples in a tidy fashion, overlapping the slices to create an attractive pattern. Sprinkle the last remaining brown sugar, cinnamon and clove mixture on top.
Bake until the apples are very tender and the top is lightly browned (about 50 minutes). Allow to cool, then cut into individual servings and serve.
Other recipes you might like: