Apple Cake with Caramel Glaze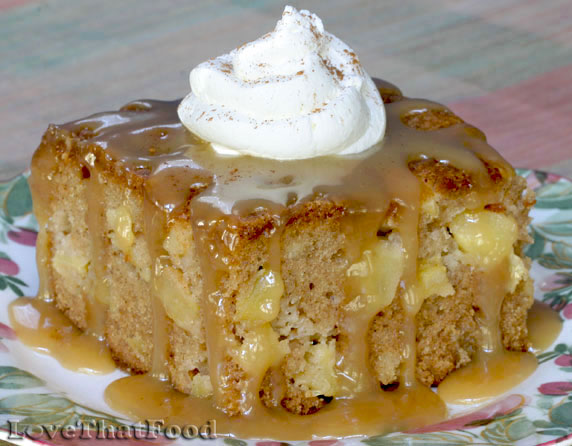 Tips:
Nuts are optional. Left over Caramel Glaze should be refrigerated, but can be reheated (just until warm) in the microwave (about 20 seconds).
Suggestion:
After drizzling with the caramel topping, cake may also be topped with dollops of whipped cream or vanilla ice cream, both lightly sprinkled with cinnamon, if desired..
Is there such a thing as too delicious? This Apple Cake with Caramel Glaze will make you ponder this question, as your mouth explodes with a combination of spectacular flavors and a moist and chewy texture that can't be beat!
To top it all off, this cake and the homemade caramel glaze are amazingly easy to prepare.
This apple cake recipe is flavored with cinnamon and nutmeg, which are spices also commonly used in apple pie recipes. In fact, this cake tastes like a close relative of apple pie, with its tender apple pieces and festive spices, and can be served instead of or in addition to apple pie at social gatherings (such as Thanksgiving and Christmas) that traditionally call for an apple pie. The caramel glaze is made with a modest amount of butter, white and brown sugar, heavy cream and a little salt, and is whipped up on your stovetop in as little as 4 minutes. You'll be amazed at the flavor and texture of this homemade caramel sauce once it has thickened on the stove. Once you take your first bite of this Apple Cake with Caramel Glaze, you'll find yourself asking the question, "Is there such as thing as too delicious?"
Ingredients
Cake



1 cup packed light brown sugar
1 cup granulated sugar
1 1/2 cups vegetable oil
3 eggs
3 cups all-purpose flour
1 teaspoon baking soda
2 teaspoons cinnamon
1/2 teaspoon nutmeg
1/2 teaspoon salt
5 apples (any kind), cored, peeled and cut into 1/2-inch pieces
2 1/4 teaspoons vanilla extract
1 1/4 cups chopped pecans or walnuts (optional)



Caramel Glaze



1/4 cup (1/2 stick) butter
1/4 cup granulated sugar
1/4 cup light brown sugar
dash of salt
1/2 cup heavy whipping cream
Directions
Cake
Heat oven to 325° F. Butter and flour a 9x13-inch cake pan.
Place brown sugar, white sugar and oil in an electric mixer bowl and beat until thoroughly blended. In a separate small mixing bowl, lightly beat eggs then add to butter and sugar mixture along with vanilla extract and mix until fully blended.
In a separate mixing bowl, sift together flour, baking soda, cinnamon, nutmeg and salt. Gradually add flour mixture to sugar, butter and egg mixture and mix just until blended, stopping once to scrape sides and bottom of bowl to incporporate all ingredients. Remove electric mixer bowl from mixer and manually stir in apples (and nuts if you are using). Pour mixture into baking pan.
Bake for 50-75 minutes, or until cake has puffed up and a toothpick inserted into center comes out clean. Allow cake to cool in the pan while preparing the Caramel Glaze.
Caramel Glaze
Melt butter over low heat in a small saucepan. As soon as butter has melted, stir in white sugar, brown sugar and salt. Continue to cook over medium-low heat for 2 minutes longer, stirring frequently. Add cream and boil over medium-high heat for 2-4 minutes more, stirring constantly. Glaze will turn to a light amber color.
Poke multiple holds in the cake with a toothpick (this helps the glaze to sink into the cake). Cut cake into individual squares, then pour some Caramel Glaze over the tops of each serving. (Alternatively, if entire cake will be eaten all at once, the glaze can be poured over entire cake, then the cake can be cut into servings.) Serve warm or at room temperature, topped with whipped cream or ice cream, if desired. Cinnamon may also be lightly sprinkled over whipped cream and/or ice cream. Store cake at room temperature. Store any leftover glaze in an airtight container in the refrigerator and briefly warm in microwave when ready to use.
Other recipes you might like: