Molasses Cake Bars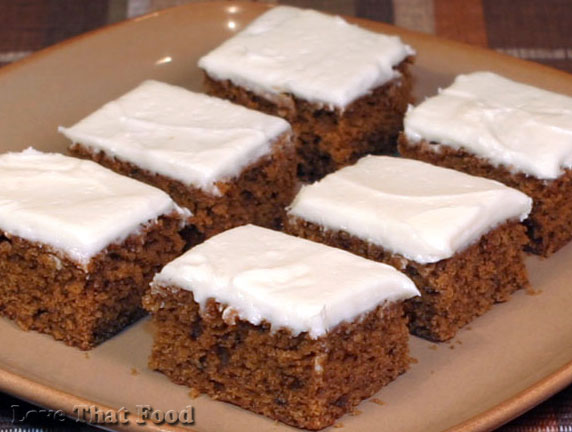 Molasses Cake Bars are moist and delicious little squares of cake made with the distinct flavor of
molasses as well as some cinnamon and cloves, festive spices often often used during the holidays. If you enjoy gingerbread, spice cake, pumpkin pie or other desserts that utilize the wonderful flavors of molasses, ginger, cloves, cinnamon, maple syrup, nutmeg and/or allspice, then this cake bar recipe is a must try!
These tangy and sweet dessert bars are topped with a creamy and buttery frosting recipe that you can whip up in minutes, adding the perfect touch of sweetness.
Molasses Cake Bars are basically made just as you would prepare a sheet cake, one of the easiest cake recipes to make. Simply pour the cake mixture into a rectangular pan, pop in the oven, then cool, add the frosting and cut into little bars.
Ingredients
Cake

1/2 cup butter, softened
1/2 cup granulated sugar
1 egg
1/2 cup light molasses
1/2 cup water
1 1/2 cups sifted all-purpose flour
1/2 teaspoon salt
1 1/2 teaspoons baking powder
1/4 teaspoon soda
1 teaspoon instant coffee powder
1 teaspoon ground cinnamon
1/2 teaspoon ground cloves



Frosting

2 cups confectioner's (powdered) sugar
1/2 cup butter, softened
1 teaspoon vanilla extract
1 1/2 tablespoons whole milk or light cream (or half & half)
Directions
Preheat oven to 350° F.
Cake
In an electric mixer bowl, beat butter and sugar until creamy and blended. Add egg and beat well to blend. Add molasses and water and mix until smooth and blended.
In a medium mixing bowl, sift together flour, salt, baking powder, soda, coffee, cinnamon and cloves. Stir flour mixture into butter mixture and mix at medium speed until blended. Pour into greased 13x9x2-inch pan. Bake for 25 minutes or until a toothpick inserted into center comes out clean. Allow to cool, then frost with Frosting. Cool. Cut into 24 squares.
Frosting
In an electric mixer bowl, add confectioner's sugar, butter, vanilla extract and milk (or cream). Beat until smooth and creamy. Apply to cake per directions.
Other recipes you might like: