Banana Angel Food Cake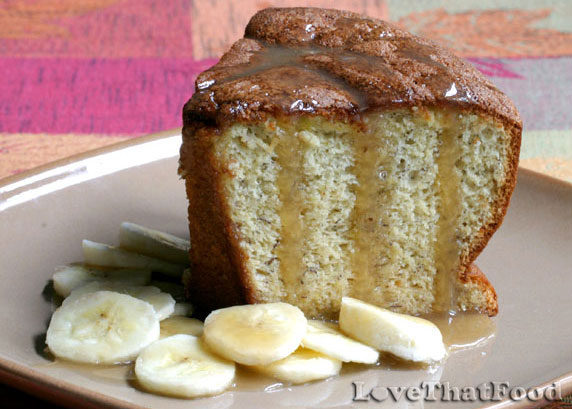 Suggestion:
Also delicious accompanied with a scoop of vanilla ice cream and/or a dollop of whipped cream.
If you enjoy the flavors of banana cake and angel food cake, this Banana Angel
Food Cake recipe is one you should try! The cake has the light and spongy texture of angel food cake, with the added bonus of true banana flavor. What makes this cake recipe complete is the caramel topping that is poured over the top of the cake and spills onto the slices of fresh bananas. It truly is delightful!
This cake is not overly sweet, yet is full of flavor and will satisfy that sweet tooth in a subtle yet satisfying way. Served with the caramel sauce and banana slices, this cake is delightful - but If you would like to add a little more sweetness and variety to your presentation, you can add a scoop of vanilla ice cream and/or whipped cream on theside. This spongy banana cake recipe is easy to make and stores nicely at room temperature.
Ingredients
Cake

1 1/2 cups all-purpose flour
1/2 teaspoon baking powder
1/2 teaspoon baking soda
7 large eggs, separated
1/2 teaspoon cream of tartar
2 ripe bananas
1 1/2 cups granulated sugar
1/2 cup oil



Caramel Topping & Banana Garnish

4 oz. (1/2 stick) butter
1/2 cup packed brown sugar
1/4 cup milk
1 cup confectioner's (powdered) sugar
2 ripe bananas, peeled and sliced
Directions
Preheat oven to 325° F.
Cake
Sift flour, baking powder and baking soda into a medium-sized mixing bowl. In another medium mixing bowl, beat egg whites with a handheld electric mixer until mixed, then add cream of tartar and continue beating until stiff peaks are formed.
In an electric mixer bowl, mash 2 bananas on low-medium speed until creamy. Add egg yolks, sugar and oil, and beat again until creamy. Add sifted flour mixture and mix until blended. Remove bowl from electric mixer, then gently fold in egg whites with a rubber spatula until blended.
Pour mixture into a greased (using butter or nonstick spray) angel food cake pan and bake for 55 minutes. Allow cake to cool in pan. Once completely cooled, run a table knife or thin metal spatula around the outer edges and center section of cake to loosen from the pan, then place your hand below the bottom insert of cake pan and gently push upward to release the cake. Lift from the cake pan insert and transfer to a cake platter or plate. Slice and serve each piece with banana slices and caramel topping.
Caramel Topping & Banana Garnish
Place butter and brown sugar in a medium sauce pan and melt over medium heat, stirring constantly. Stir in milk and confectioners' sugar and stir until fully blended and smooth and slightly thickened (about 1-2 minutes). Remove from heat. Arrange banana slices around cake and drizzle caramel sauce over cake and bananas.
Other recipes you might like: