Angel Food Cake with Caramel Fluff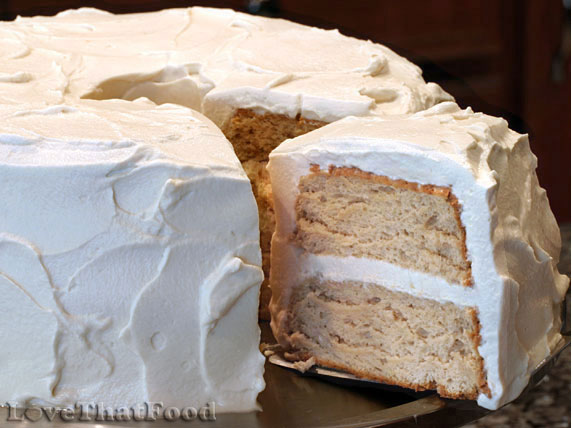 Cook Time:
About 30 minutes
Tips:
See recipe description and recipe for tips.
Suggestion:
For added flavor and decoration, you can drizzle caramel sauce or sprinkle English toffee candy pieces over top of cake.
Angel Food Cake with Caramel Fluff is made with brown sugar rather than white, giving it wonderful moistness and a subtle caramel-like flavor, as well as a pretty light amber color. This soft and fluffy
angel cake is topped with a light whipped topping also made with brown sugar (rather than traditional white powdered sugar), giving the topping a melt-in-your-mouth caramel-like flavor that blends perfectly with the softness, flavor and texture of the cake.
The above photo shows this cake cut into two layers with a layer of caramel fluff in the center as well as all over the entire cake. If preferred, you can also keep the cake in its whole form and coat only the outside surface. You can also skip coating the cake with the Caramel Fluff all together and simply serve the cake plain with large dollops of the whipped topping on each serving. Lastly, if you'd like to make your cake more festive and decorative, you can drizzle some caramel or butterscotch sauce (such as ice-cream topping) or broken pieces of English toffee candy bars over the top after applying the whipped topping.
Ingredients
Cake

1 cup all purpose flour
2 cups packed brown sugar, divided
1 1/2 cups egg whites (about 12)
1 1/2 teaspoons cream of tartar
1/4 teaspoon salt
2 teaspoons vanilla



Caramel Fluff

2 cups chilled whipping cream
3/4 cup packed brown sugar
1 teaspoon vanilla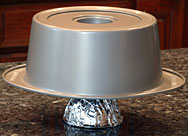 To cool after baking, rest cake upside-down on a funnel inserted into cake pan hole (if funnel is plastic, coat with aluminum foil to prevent heat damage). A bottle with a thin neck may also be used.
Directions
Preheat oven to 375° F.
Cake
In a medium mixing bowl, beat flour and 1 1/4 cups of the brown sugar with a handheld electric mixer until no lumps remain (squeeze any last remaining lumps with your fingers to break-up). Set aside.
In an electric mixer bowl, beat egg whites and cream of tartar on medium speed until foamy. Beat in the remaining 3/4 cups of brown sugar on high speed, about 2 tablespoons at a time. With last addition of brown sugar, add salt and vanilla extract. Continue beating until mixture becomes a stiff and glossy meringue. (Note: Do not under-beat.)
Remove bowl from electric mixer and sprinkle flour and brown sugar mixture, 1/4 cup at a time, over meringue, folding in just until flour-sugar mixture disappears. Pour batter evenly into ungreased 10 x 4-inch tube cake pan, then gently cut through the batter with a metal spatula to help the batter settle.
Bake until cracks on top of cake feel dry and top springs back when touched lightly (about 30-35 minutes). Turn entire cake pan upside-down and carefully slip cake pan hole over the narrow end of a metal funnel (or a plastic funnel coated with aluminum foil) or a bottle with a thin neck, and allow cake to cool while hanging upside-down (this helps to prevent top of cake from sinking). (See above photo.)
Once completely cooled, turn cake over. Slip a knife around the entire edge of cake to separate edges from cake pan. Turn cake upside-down again over a cake platter and allow cake to fall out of pan. Coat sides and top of cake with Caramel Fluff. (Note: If desired, slice cake in half horizontally and apply whipped topping on top of bottom layer, then place top layer on top of coated bottom layer and coat sides and top of cake.)
Caramel Fluff
Beat whipping cream, sugar and vanilla in a chilled bowl until stiff peaks form. Refrigerate at least 1 hour before applying to cake.
Other recipes you might like: