Apple Cranberry Crumb Pie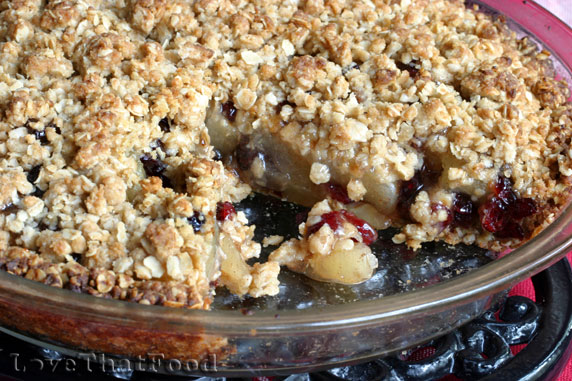 Cook Time:
About 30 minutes
Tips:
May be served warm or at room temperature.
Suggestion:
If desired, serve this pie ala mode with a scoop of vanilla ice cream.
Almost everyone loves a freshly baked homemade apple pie with a melt-in-your-mouth flaky pie crust, but there's something about an apple pie with crumb topping that appeals to the palate in so many different and wonderful ways. Crumb topping is also often used with other types of apple pie recipes, such as
Apple Tart with Crumb Topping
, Dutch apple pie and
Apple Custard Pie
. Crumb topping for apple pie can be made using a varied combination of ingredients, such as flour, oats and brown sugar and/or white granulated sugar and perhaps a littleseasoning, but no matter what preparation method is used, it inevitably always provides that delicious crumbly texture that tastes so fabulous with apple pie filling. Apple pie with oatmeal crumb topping is especially popular, partly because of the healthy factor provided by the oats as well as the wholesome flavor and chewy texture the oats provide.
The buttery oatmeal crumb topping for this Apple Cranberry
Crumb Pie is made with oats (quick or old-fashioned), flour, brown sugar and melted butter. In addition to the buttery oatmeal crumb topping and crust, the apple pie filling is combined with some sweetened dried cranberries, giving the pie added flavor and texture as well as a touch of red, vibrant and festive color. So, when that time of year approaches and you're looking for Christmas dessert recipes, this Apple Cranberry Crumb Pie is an especially perfect way to celebrate Christmas! To make this pie even more mouth watering, the crust for this apple cranberry pie is made with the same ingredients used for the oatmeal crumb topping, enveloping the apple pie filling with outrageous flavor and texture!
Lastly, one of the main reasons this is such an easy apple pie recipe is because this recipe uses a can of prepared apple pie filling rather than requiring you to take the time and put forth the effort to buy, core, peel and slice a bunch of apples. A little lemon juice and cinnamon are added to the apple pie filling to add to that homemade flavor. You might be wondering if a pie made with canned apple pie filling can still achieve that fabulous freshly baked apple pie experience. The answer to that question is clearly "yes!" An easy apple pie recipe with amazing flavor - what more could one ask for? Okay, well, maybe serving this pie ala mode with a scoop of vanilla ice cream on the side would be nice...
Ingredients
1 1/2 cups oats (quick or old-fashioned)
1 cup all-purpose flour
1/2 cup firmly packed brown sugar
1/2 teaspoon baking soda
10 tablespoons butter, melted
1 21-oz. can apple pie filling
3/4 cup sweetened dried cranberries
1 1/2 teaspoons lemon juice
1/2 teaspoon ground cinnamon
Directions
Preheat oven to 375°F. Lightly butter or coat an 8 or 9-inch glass pie pan with nonstick cooking spray.
In a medium
mixing bowl
, whisk together oats, flour, brown sugar and baking soda. Add melted butter and stir until well-blended. Set aside 3/4 cup fo the oat mixture for topping the pie later. Press the remaining oat mixture firmly onto the bottom and sides of the pie pan. Bake for 10-12 minutes, or until crust turns light golden brown. Remove from oven and place on a wire rack to cool slightly.
Using the same mixing bowl, stir together the pie filling, cranberries, lemon juice and cinnamon. Spoon the filling evenly over the hot crust. Sprinkle the reserved oat topping evenly over the top of the pie filling.
Bake for 18-22 minutes, or until the topping turns golden brown. Serve warm or at room temperature, topped with vanilla ice cream if desired.
Other recipes you might like: