Pie
Pie comes in so many varieties, that restaurants have been founded based on serving only pie. When most people think of pie, they probably think
of the traditional fruit-filled pie baked in a pastry dough crust. Pies can also come in many other forms, such as creamy pies and merinque, and can be made with ice cream, cream cheese, custard, pecans, yogurt or made with vegetables such as sweet potato and rhubarb. Pastry dough pies also can be served for meals (savory pies), using meats, vegetables, eggs and other ingredients. This page is of course dedicated to sweet pies, but in time savory pies will also be added to LoveThatFood's main dish recipe collections. Here you will find recipes for cream pies, fruit pies, ice cream pies, pumpkin pie and yogurt pie, as well as recipes for pie crust. Stay tuned, as new pie recipes will continue to be added to this page...
Pie Recipes ▼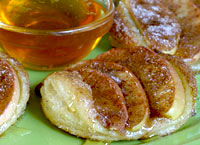 This
Mini Honey Apple Tarts recipe
is amazingly easy to make, and requires only a few simple ingredients. All you need to make these mini apple tarts is a package of puff pastry and 1 or 2 apples. If you have sugar, cinnamon and honey in your pantry, you're set to go! Simply cut the puff pastry into circles, then top with thinly sliced apples and sprinkle with a cinnamon, sugar and nutmeg mixture, then bake! Drizzle with honey and enjoy!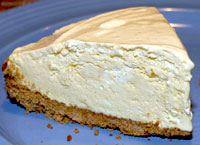 If you remember those 50/50 ice cream bars that featured vanilla ice cream surrounded by an orange popsickle, then you already have an idea as to the flavor of
Orange Ice Cream Pie
. This pie is the orange version of Lemonade Ice Cream Pie, using orange juice concentrate in place of the lemonade concentrate. Both pies are delicious and refreshing, and both have their own distinctive and delightfully refreshing flavor!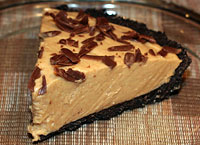 You don't have to be a peanut butter lover to enjoy this
Peanut Butter Pie recipe
, though it certainly won't hurt if you are! Peanut Butter Pie is rich, creamy and delicious, and the peanut butter flavor combines perfectly with the chocolately flavor of the homemade chocolate wafer pie crust. So, grab a cup of coffee or an ice cold glass of milk, and dive into a slice of this lovely decadence. This pie has a flavor you won't forget!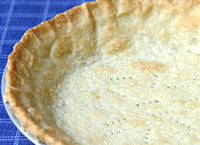 Making your own
homemade flaky Pie Crust
is easier than you probably imagine, and will produce a buttery and flaky pie crust that will give your pies more flavor and that undeniable homemade touch! This
Pie Crust recipe
can be used for all sorts of pies, including, apple pie, cream pies, mousse pies and even quiches. For pies that require a top crust, simply double this recipe and cover your pie in any design.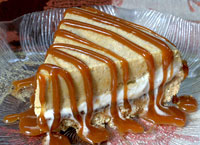 Pumpkin Caramel Ice Cream Pie
is a great alternative to pumpkin pie, and is an especially delicious way to cool down on a warm day! This ice cream pie begins with a homemade graham cracker crust. Layers of vanilla ice cream and a vanilla ice cream and pumpkin mixture rest on top of a layer of homemade caramel sauce. After freezing, when you're ready to serve this refreshing pie, more warmed caramel sauce is drizzled over the top.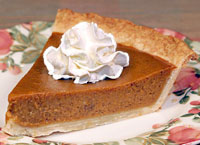 Pumpkin Pie is a traditional North American dessert, usually served during the Thanksgiving and Christmas holidays, though is just as delicious any other time of year! This
Pumpkin Pie recipe
uses all the perfect holiday spices, incluzding cinnamon, nutmeg, ginger and cloves, giving it that festive holiday flavor. It is sweetened with brown sugar, which also adds to the great flavor and texture of this traditional pie.