Pumpkin Pie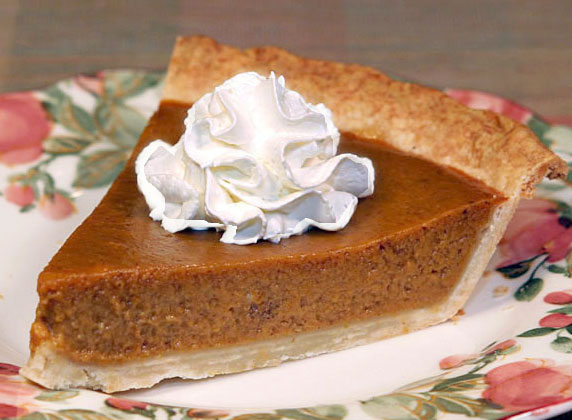 Tips:
The trick to creating a flaky pastry is using cold water and cold butter, getting the batter to the right consistency, and refrigerating until ready to bake.
Suggestion:
Serve with dollops of whipped cream or vanilla ice cream.
Pumpkin pie is a traditional North American dessert, usually served during the Thanksgiving and
Christmas holidays, though is just as delicious any other time of year! This pumpkin pie recipe uses all the perfect holiday spices, including cinnamon, nutmeg, ginger and cloves, giving it that festive holiday flavor. It is sweetened with brown sugar, which also adds to the great flavor and texture of this traditional pie.
This pumpkin pie recipe is very easy to make, and gives you that full, homemade flavor that is next to impossible to get from a premade pie from the store. Though some use a premade pie crust from the store when making homemade pies, I highly recommend using the recipe for homemade pie crustbelow with this pumpkin pie recipe, as it is as simple as mixing a few ingredients you probably already have in your pantry, and produces a pie crust that is wonderfully light and flaky, not to mention fresh and delicious!
Ingredients
Crust

1 1/4 cups all-purpose flour
1/2 teaspoon salt
1 tablespoon sugar
1/2 cup unsalted butter (chilled and cut into cubes)
2-4 tablespoons ice water (chill with ice in a glass before using)



Pie

2 eggs
1 14-oz. can pumpkin
1 cup packed brown sugar
1 teaspoon cinnamon
1/2 teaspoon nutmeg
1/4 teaspoon ground ginger
1/8 teaspoon ground cloves
1/8 teaspoon salt
3/4 cup canned evaporated milk
1 pie crust (recipe follows)
Directions
Crust
In a food processor, combine flour, salt and sugar and process until mixed. Add butter cubes and process until mixture resembles coarse crumbs (about 15 seconds). Begin to process again, then steadily add 2 tablespoons of the ice water. (After adding water, mixture should hold together when pinched.) Only use additional ice water if dough does not hold together when pinched (a small amount at a time, testing in between each addition). Process for a few seconds only; do not process for more than 30 seconds.
Transfer dough to a work surface and gather into a ball. Flatten ball into a 5 or 6-inch disk. Wrap the disk in plastic wrap and place in the refrigerator for 30 minutes to 1 hour.
After dough has chilled, transfer to a lightly floured surface. Roll into a 13-inch circle, always rolling from the center outward. Lift dough frequently and re-flour work surface as necessary to prevent dough from sticking to work surface. Carefully transfer dough to pie pan and brush off any excess flour. If dough cracks or tears during this process, simply pinch dough back together, smoothing mended areas. Tuck overhanging dough under itself. Use your fingers or a fork to create a decorative border around the edges. Cover dough with plastic wrap and place in refrigerator for about 30 minutes before pouring in the pumpkin pie filling.
Pie
Preheat oven to 375° F.
In a medium mixing bowl, beat eggs lightly. Add pumpkin, brown sugar, cinnamon, nutmeg, ginger, cloves and salt. Whisk until well blended. Add milk and whisk again until blended and smooth. Pour mixture into prepared and chilled pie crust and bake for 45-55 minutes or until toothpick or pointed knife inserted into center of pie comes out clean. Garnish with whipped cream or vanilla ice cream.
Other recipes you might like: