Pie
Pie comes in so many varieties, that restaurants have been founded based on serving only pie. When most people think of pie, they probably think
of the traditional fruit-filled pie baked in a pastry dough crust. Pies can also come in many other forms, such as creamy pies and merinque, and can be made with ice cream, cream cheese, custard, pecans, yogurt or made with vegetables such as sweet potato and rhubarb. Pastry dough pies also can be served for meals (savory pies), using meats, vegetables, eggs and other ingredients. This page is of course dedicated to sweet pies, but in time savory pies will also be added to LoveThatFood's main dish recipe collections. Here you will find recipes for cream pies, fruit pies, ice cream pies, pumpkin pie and yogurt pie, as well as recipes for pie crust. Stay tuned, as new pie recipes will continue to be added to this page...
Pie Recipes ▼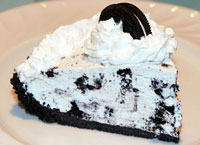 It's hard to resist this creamy and delicious
Cookies and Cream Pie
! It combines the well-loved flavors of whipped cream and cream cheese, then adds to that chunks of crumbled chocolate wafer sandwich cookies (such as Oreos). This delicious pie filling is then poured into a baked Chocolate Wafer Pie Crust and chilled in the refrigerator for only a couple hours. Just before serving, this pie is topped with whipped cream and cookies.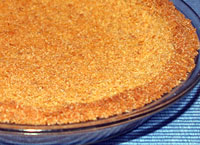 Graham Cracker Pie Crust
is a mildly sweet and crumbly pie crust made with crushed graham crackers, butter and granulated sugar (brown sugar may also be used), and adds wonderful flavor and texture to all sorts of pies, including cream pies, cheesecakes, mousse pies, ice cream pies and more. Making Graham Cracker Pie Crust is as easy as mixing the ingredients, then baking for 10-15 minutes!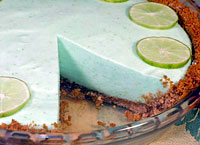 Key Lime Yogurt Pie
is a light and refreshing pie made with a no-bake filling of key lime yogurt, key lime-flavored gelatin, whipped cream and the juice and zest of key limes. The filling has a creamy consistency with a little added "bounce" from the gelatin. This recipe uses a delicious
homemade graham cracker pie crust
that is very easy to prepare and cooks in only minutes. This pie can easily be made with lemon, as well!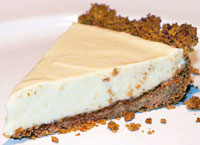 This refreshing and wonderfully delicious
no-bake Lemon Cream Cheese Pie recipe
produces a pie that has a texture lighter than a cheesecake yet with similar flavoring. The pie filling requires no cooking and is quick and easy to m ake, while the
homemade graham cracker crust
only requires 15 minutes baking time. May be topped with fresh berries and/or whipped cream if desired.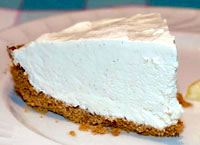 Lemonade Ice Cream Pie
is cold, tart, very refreshing, and a cinch to make! This pie is great anytime, but especially hits the spot on a hot summer day. Made with only 3 ingredients and poured into a homemade graham cracker pie crust, this lemony treat is ready to serve after a few hours in the freezer. Photo above shows Lemonade Ice Cream Pie made with vanilla bean ice cream and
homemade Graham Cracker Pie Crust
.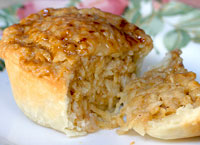 Mini Apple Pies
are fun and adorable and perfect for parties, holidays or any occasion! These mini apple pies begin with a homemade pie crust that is placed into muffin cups. A simple filling of grated apples, cinnamon, sugar and rolled oats is spooned into the pie crusts. Once baked, a sweetened cream cheese topping is spread over the tops with some toffee pieces, and the pies are baked for five more minutes. Truly divine!