Beef
There are many cuts of beef and endless ways to prepare beef recipes. Some of the most popular cuts of beef include beef roast, ground beef,
beef stew and beef steak (but it certainly doesn't stop there). Beef can be transformed into hamburgers, chili, casseroles, meatballs, roasts, grilled dishes, sauces and more. Various cuts of beef can be barbequed, broiled, baked, slow-cooked and/or stir-fried - and that's only the beginning. The method of preparation and spices, sauces and herbs you use can also create an endless variety of flavors and a wide variation of beef dishes. Below you will find a collection of recipes for beef dishes that are not only delicious, they're easy to prepare. You can find even more beef recipes in different categories listed throughout this site, such as Appetizers & Snacks, Pasta, Sandwiches, Soups & Stews and Stir-Fry to name a few.
Beef Recipes ▼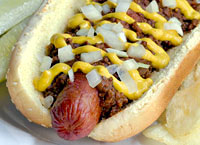 This
Coney Island Chili Dog recipe
takes a traditional hot dog and tops it with a chili recipe that is especially designed for topping hot dogs, including the use of a blender for a smoother consistency. Photo shows a quarter-pound all beef frank and a Coney style bun, but you can certainly use any size or type of frank and bun you prefer with this recipe. Believe it or not, this chili recipe also tastes served over spaghetti noodles!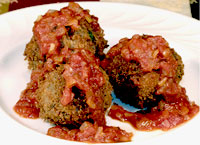 Crispy Meatballs Marinara
is an Italian meatball recipe that features ground beef and bulk Italian sausage, seasoned with all the right stuff, then coated with Panko bread crumbs and fried until golden and crispy. A very flavorful, quick and easy marinara sauce made with onions, sliced garlic and seasonings is then drizzled over the top, making this dish complete and packed with amazing flavor!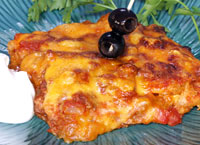 This easy Mexican casserole recipe is perfect for those wanting a dinner that tastes delicious yet takes very little time to prepare.
Enchilada Casserole
features layers of a simmered ground beef sauce, corn tortillas and plenty of cheddar cheese that bake to a bubbly and golden brown on top. The sauce consists of lean ground beef, onions, diced green chiles, canned tomatoes, tomato sauce and taco seasoning.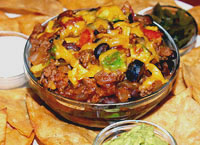 This
Festive Nachos recipe
combines tender lean ground beef, salsa, black beans, avocado and tomato chunks, ripe olives and a hint of chili powder. You can serve this dish with
homemade tortilla chips
and/or warm corn or flour tortillas for filling. Photo shows Festive Nachos with served with sides of sour cream, pickled jalapenos and Creamy Guacamole. You can kick this nachos recipe up a notch with a few added ingredients.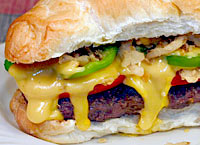 Golden Onion Burgers
are a fun twist to regular hamburgers. Ground beef is seasoned and combined with French fried onions and egg. The ground beef patty is cooked on your outdoor grill, then placed in a roll or crusty bread slices. The grilled patties are topped with sliced tomatoes, fresh green bell pepper rings, a homemade cheddar cheese sauce and crispy French fried onions A colorful and crispy hamburger recipe!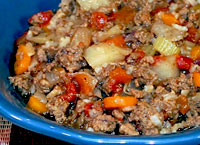 Goulash originated as a Hungarian dish (often called "Hungarian Goulash"), but has become a well-known American dish. Goulash combines a mixture of ingredients that are simmered together, much like soup or stew. This
Goulash recipe
features ground beef, rice, potatoes, carrots, onions, celery, tomatoes and shredded cabbage, producing a delicious and satisfying meal that can be served alone or over rice or pasta.