Beef
There are many cuts of beef and endless ways to prepare beef recipes. Some of the most popular cuts of beef include beef roast, ground beef,
beef stew and beef steak (but it certainly doesn't stop there). Beef can be transformed into hamburgers, chili, casseroles, meatballs, roasts, grilled dishes, sauces and more. Various cuts of beef can be barbequed, broiled, baked, slow-cooked and/or stir-fried - and that's only the beginning. The method of preparation and spices, sauces and herbs you use can also create an endless variety of flavors and a wide variation of beef dishes. Below you will find a collection of recipes for beef dishes that are not only delicious, they're easy to prepare. You can find even more beef recipes in different categories listed throughout this site, such as Appetizers & Snacks, Pasta, Sandwiches, Soups & Stews and Stir-Fry to name a few.
Beef Recipes ▼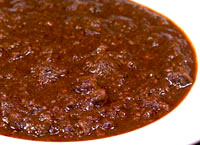 Burgundy Chili
is made with ground beef and chorizo and produces a thick and delicious tomato-flavored broth made with tomato puree, tomato sauce, burgundy, chili powder, red diced red onions and diced jalapenos. After this chili cooks for a minimum of 2 hours, the alcohol in the burgundy evaporates, and a subtle delightful flavor remains, giving this meat stew a unique and delicious taste that all ages will enjoy.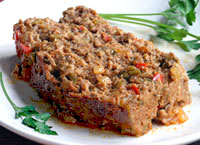 Made with lean ground beef and ground pork,
Cajun Meatloaf
is full of lively flavor and is made with the perfect blend of spices. This meatloaf recipe is easier than ever to put together, and takes only 1 hour to cook in the oven. Diced bell pepper, onions (green and yellow), celery and jalapenos are sauteed with a mixture of condiments and Cajun-style spices, bringing amazing flavor and moisture to this dish.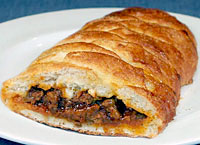 Chili Con Carne Loaf
is a simple and fun meal to make, yet presents itself with dramatic visual appeal. The filling is warm and tasty and the dough is fluffy with a slight outer crunch. This dish is much like a hot wrapped sandwich, and features a filling made with tender lean ground beef, tomato sauce, diced green chilies, onion, garlic flavoring and a generous helping of grated cheddar cheese above and below the meat filling.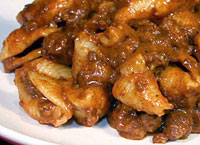 Chili Mac
is a great quick and easy pasta recipe you can throw together when you are too tired to cook or simply don't have the time. Chili Mac is conveniently made with prepackaged macaroni and cheese and canned chili (with no beans) and a few added spices to give it that homemade flavor. This easy dish resembles one of those boxed pasta skillet dishes, though without the preservatives and much more flavor!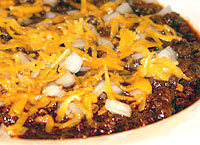 Chorizo Chili
is a spicy and powerfully flavored chili that features pork chorizo and lean ground beef in a beef and tomato broth seasoned with cayenne pepper, chili powder, cumin and white pepper. Though no kidney beans are cooked with the chili, they can certainly be added to the chili once dished up. While many chili recipes use tomato paste as a thickening agent, Chorizo Chili uses dehydrated potato buds.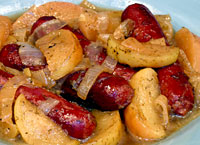 This savory and mildly sweet
Cider-Braised Sausage with Apples recipe
is as simple and easy as can be, yet is packed with wonderful flavor! This sausage recipe takes only 20 minutes of simmering in a skillet and features sausages, sautéed sliced onions and sliced apples cooked in seasoned apple cider. Photo shows bratwurst sausages, though smoked sausage, kielbasa style sausage or sweet Italian sausage will work as well.