Beef
There are many cuts of beef and endless ways to prepare beef recipes. Some of the most popular cuts of beef include beef roast, ground beef,
beef stew and beef steak (but it certainly doesn't stop there). Beef can be transformed into hamburgers, chili, casseroles, meatballs, roasts, grilled dishes, sauces and more. Various cuts of beef can be barbequed, broiled, baked, slow-cooked and/or stir-fried - and that's only the beginning. The method of preparation and spices, sauces and herbs you use can also create an endless variety of flavors and a wide variation of beef dishes. Below you will find a collection of recipes for beef dishes that are not only delicious, they're easy to prepare. You can find even more beef recipes in different categories listed throughout this site, such as Appetizers & Snacks, Pasta, Sandwiches, Soups & Stews and Stir-Fry to name a few.
Beef Recipes ▼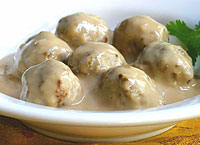 Swedish Meatballs
can be served as appetizers or as a main course with rice, pasta or even potatoes. To make these meatballs as appetizers, simply form them into bite-size balls and serve with toothpicks on the side if desired. Guests can dip each ball into the creamy and delicious sauce that gives these meatballs their famous flavor. This recipe is straightforward and easy, and is always a big hit with all ages!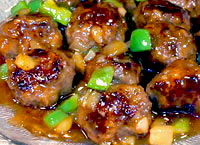 Sweet and Sour Meatballs
are wonderful served as an appetizer for any event, or as a main course over rice. These Hawaiian style meatballs are made with a mixture of lean ground beef, rolled oats, diced water chestnuts, egg, milk and spices and are browned in the skillet in just minutes. A sweet and tart Sweet and Sour Sauce is then poured over the meatballs, giving them the final touch of that recognizable wonderful Polynesian flavor!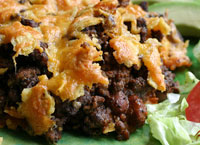 Taco Casserole
takes very little effort to make, tastes great and is enjoyed by all ages. This easy casserole recipe is made with ground beef with some seasonings, a can of chili with beans, your favorite salsa, cheddar cheese and corn or tortilla chips. This dish will satisfy big hunger at a very reasonable cost!
Taco Casserole
tastes great accompanied by sour cream and any salsa of your choice as well as avocado, lettuce and tomatoes.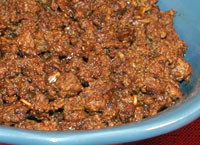 This
recipe for Taco Meat Seasoning
is shown here made with ground beef, but this recipe can be can also be used with pork or chicken, as well as steak, whether ground or cut bite-size chunks or shredded. It has the perfect amount of spice and adds enormous flavor to any of these meats. This meat seasoning recipe can be used for tacos, tostadas, taquitos, burritos or any other dish that calls for adding meat to soft or fried tortillas.
Though this dish is called "
Tamale Pie
," it's really a casserole in disquise. The meat filling in this tasty Mexican casserole recipe consists of a tomato and chili-flavored sauce made with sautéed onions, green bell pepper and garlic. Corn kernels are added and the meat filling is poured over a wonderful cornmeal crust flavored with butter and Parmesan cheese. More cornmeal crust is added to the top, becoming crispy and delicious!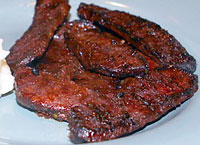 This easy
Teriyaki Steak Strips recipe
features a teriyaki marinade made with a combination of pineapple juice, white or rice vinegar, Worcestershire sauce, sesame oil brown sugar, honey, garlic and fresh ginger root, and can be used as both a marinade and a dipping sauce. These teriyaki steak strips can be cooked on an indoor grill or under the broiler, though if weather permits, an outdoor grill will provide that undeniable smoky flavor.