Beef
There are many cuts of beef and endless ways to prepare beef recipes. Some of the most popular cuts of beef include beef roast, ground beef,
beef stew and beef steak (but it certainly doesn't stop there). Beef can be transformed into hamburgers, chili, casseroles, meatballs, roasts, grilled dishes, sauces and more. Various cuts of beef can be barbequed, broiled, baked, slow-cooked and/or stir-fried - and that's only the beginning. The method of preparation and spices, sauces and herbs you use can also create an endless variety of flavors and a wide variation of beef dishes. Below you will find a collection of recipes for beef dishes that are not only delicious, they're easy to prepare. You can find even more beef recipes in different categories listed throughout this site, such as Appetizers & Snacks, Pasta, Sandwiches, Soups & Stews and Stir-Fry to name a few.
Beef Recipes ▼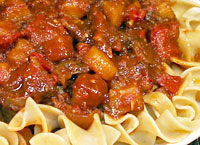 Rosy Beef Stew
derives its name from the rosy red color of this slow cooker dish as well as its unique flavor. This tasty stew has a thicker consistency than the traditional beef stew and is served over egg noodles much like beef stroganoff.
Rosy Beef Stew
is made with diced carrots, potatoes, red pepper, parsnips and pearl onions with bite-size chunks of stewing beef (pork, chicken or turkey may be used instead of beef.)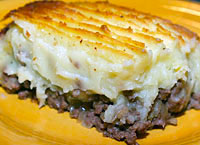 Shepherd's Pie
(also sometimes referred to as Cottage Pie) is a great way to combine meat and potatoes into one tasty casserole dish. This traditional and easy
Shepherd's Pie recipe
features lean ground beef combined with diced carrots, celery and onions, minced garlic and an assortment of seasonings. (You can also add peas to this recipe if desired.) The attractive pattern on top is simply created with the tines of a fork.
This
Smoky Sloppy Joes recipe
offers a great twist from traditional sloppy joes recipes! The "smoky" portion of this recipe is provided by the smoky sausage links.. Ground beef is browned with some chopped onions, then combined with sliced smoky sausage. The beef and sausage mixture is simmered in afull-flavored sauce made wth canned tomatoes and tomato paste, seasoned with chili powder, a bay leaf and some salt and pepper.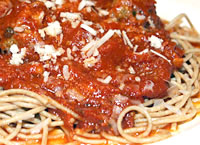 This is no ordinary plate of
Spaghetti and Meatballs
! The flavors in the marinara alone are marvelous, and the meatballs are tender with a wonderful blend of ingredients that take this spaghetti recipe over the top! Taking a little extra time to let this homemade marinara sauce simmer in your kitchen rather than grabbing a jar or two of pasta sauce from the store is well worth the effort! This spaghetti dish is also fabulous reheated!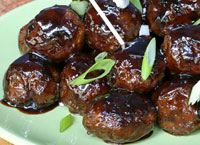 Spicy Apple-Glazed Meatballs
are seasoned with plenty of garlic and a hint of cayenne pepper, and are nicely held together with a couple slices of bread that have soaked in an egg and milk mixture. Once browned, a fabulous sauce flavored with apple juice, soy sauce, brown sugar and some ground ginger is quickly whipped up on the stove then combined with the meatballs, giving them lively flavor and a beautiful glisten.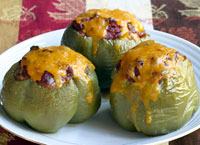 This
easy Stuffed Peppers recipe
features seasoned lean ground beef and rice combined with a tomato sauce made with sautéed diced onion, diced bell pepper and minced garlic, diced tomatoes, tomato sauce and assorted seasonings that give this sauce fabulous full flavor. The sauce is used in the meat mixture as well as spooned over the tops of each pepper before baking, along with shredded cheddar cheese.