Beef
There are many cuts of beef and endless ways to prepare beef recipes. Some of the most popular cuts of beef include beef roast, ground beef,
beef stew and beef steak (but it certainly doesn't stop there). Beef can be transformed into hamburgers, chili, casseroles, meatballs, roasts, grilled dishes, sauces and more. Various cuts of beef can be barbequed, broiled, baked, slow-cooked and/or stir-fried - and that's only the beginning. The method of preparation and spices, sauces and herbs you use can also create an endless variety of flavors and a wide variation of beef dishes. Below you will find a collection of recipes for beef dishes that are not only delicious, they're easy to prepare. You can find even more beef recipes in different categories listed throughout this site, such as Appetizers & Snacks, Pasta, Sandwiches, Soups & Stews and Stir-Fry to name a few.
Beef Recipes ▼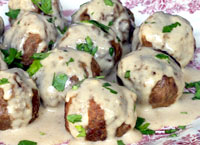 Norwegian Meatballs
(also referred to as
Kjøttboller
in Norwegian cuisine) feature browned meatballs that slow-cook in a beef broth. When the meatballs are ready to serve, heavy cream is combined with the broth, creating a creamy, savory sauce. This sauce is briefly heated until thickened, then poured over the meatballs, which are then topped with chopped fresh parsley. This dish is great served as appetizers or a main course.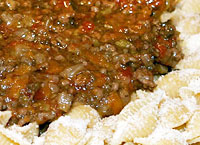 Pasta with Beef and Red Wine Sauce
is a unique and elegant French pasta dish with fabulous and distinct flavor. Tender ground beef is cooked with finely diced vegetables in a beef-flavored broth with a hint of red wine, then served over a bed of pasta shells and sprinkled with freshly grated Parmesan cheese. This dish can be made in advance and refrigerated or frozen, then reheated. Truly delicious!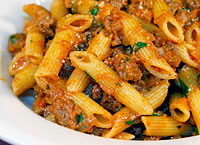 Penne Bolognese
is a delightful pasta dish made with lean ground beef and diced vegetables, herbs and Parmesan cheese in a tomato-based sauce . It is easy to prepare and only requires a little dicing of onions, carrots and celery. The rest is simply a matter of browning the ground beef and allowing it to simmer in the wonderful flavors of the sauce. The sauce is tossed with Penne pasta, then topped with grated Parmesan cheese.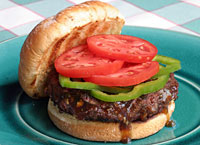 Polynesian Teriyaki Burgers
feature tender and juicy beef patties marinated in a flavorful sauce that combines soy sauce, brown sugar, fresh ginger root and Worcestershire sauce. These burgers are topped with thinly sliced fresh green bell pepper rings and tomato slices, which go perfectly with the Polynesian theme and add freshness and wonderful crunch. The marinade is also used for basting, giving these patties added flavor.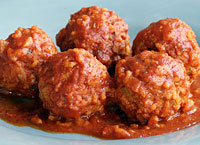 Porcupine Meatballs in Chili Sauce
is a tasty meatball recipe made with a mixture of lean ground beef, rice, diced celery, onions, green bell pepper and egg, along with a flavorful combination of seasonings. The richly red sauce is amazing in and of itself, made with a generous amount of tomato juice seasoned with chili powder, cumin, molasses and garlic. These meatballs can be made in 1 to 2-inch sized-meatballs.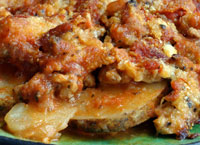 Potato Pizza Lasagna
is a fun, tasty and economical alternative to traditional lasagna recipes. If you enjoy pizza, lasagna and potatoes, you'll be able to enjoy the flavors of all three with this tasty potato and pizza lasagna recipe! For those following a gluten-free diet, this recipe can also be served as a gluten free lasagna. This potato casserole can be baked in the oven (1 hour 15 minutes) or microwave oven (20 minutes).