Beef
There are many cuts of beef and endless ways to prepare beef recipes. Some of the most popular cuts of beef include beef roast, ground beef,
beef stew and beef steak (but it certainly doesn't stop there). Beef can be transformed into hamburgers, chili, casseroles, meatballs, roasts, grilled dishes, sauces and more. Various cuts of beef can be barbequed, broiled, baked, slow-cooked and/or stir-fried - and that's only the beginning. The method of preparation and spices, sauces and herbs you use can also create an endless variety of flavors and a wide variation of beef dishes. Below you will find a collection of recipes for beef dishes that are not only delicious, they're easy to prepare. You can find even more beef recipes in different categories listed throughout this site, such as Appetizers & Snacks, Pasta, Sandwiches, Soups & Stews and Stir-Fry to name a few.
Beef Recipes ▼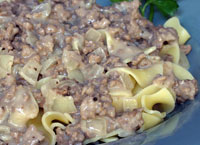 This recipe for beef stroganoff features lean ground beef, which makes this skillet dish easy and gives it a wonderful tender texture.
Ground Beef Stroganoff
features ground beef that is cooked with chopped onions. This beef and onion mixture is then combined with a butter and flour roux and beef broth. Sour cream is stirred just before serving, and this rich and creamy mixture is spooned over your favorite pasta.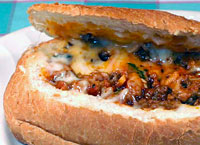 Lasagna Sandwiches
feature soft sandwich buns filled with a mixture of lean ground beef and ground pork sausage, seasoned with tomato sauce, herbs and spices and a blend of mozzarella, ricotta and Parmesan cheeses. The bun tops are cut off, the insides hollowed-out and the meat and cheese mixture is placed inside. Mozzarella cheese is sprinkled over the top, the bun tops replaced, then they're wrapped in foil and baked.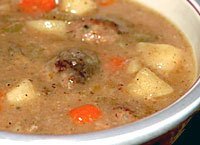 This
Meatball Stew recipe
features seasoned ground beef meatballs, potatoes, celery and carrots in a savory thickened broth, together creating a comfort food that warms and satisfies. The meatballs are seasoned with onion, garlic, Worcestershire sauce, cumin and fresh parsley and are mixed with egg and bread crumbs to help hold them together as they cook, while giving the gravy-style broth intensified flavor as it cooks.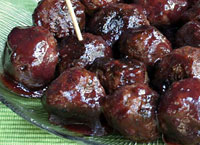 Meatballs with Cherry Sauce
features cocktail-sized meatballs made with lean ground beef and bulk pork sausage combined with fresh parsley, fine bread crumbs, milk, egg and diced onion. Once browned, the meatballs are stirred into a divine dark cherry sauce made from pureed canned pitted dark cherries, ground ginger, cloves, cinnamon, freshly squeezed lemon juice and vinegar. Mildly sweet and tangy!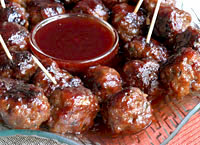 This
Meatballs with Grape Jelly and Chili Sauce recipe
features mini-sized ground beef meatballs seasoned with minced onion, minced garlic, fresh parsley and Worcestershire sauce and tenderized with egg, milk and bread crumbs. The sauce is a simple, quick and easy combination of grape jelly and red chili sauce, which when combined produces a very flavorful sauce enjoyed by both kids and adults. Great for any occasion!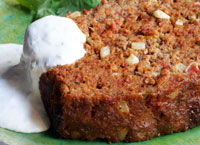 This festive
Mexican Meatloaf recipe
is a wonderful variation of meatloaf and features the fabulous flavors of Mexico by combining chorizo, green chiles, corn, cilantro, stewed tomatoes and cornmeal. This mildly spicy meatloaf is also accompanied by a delicious Creamy Salsa made with a simple combination of sour cream and salsa verde, giving this dish the perfect complimentary flavor!