Burgundy Chili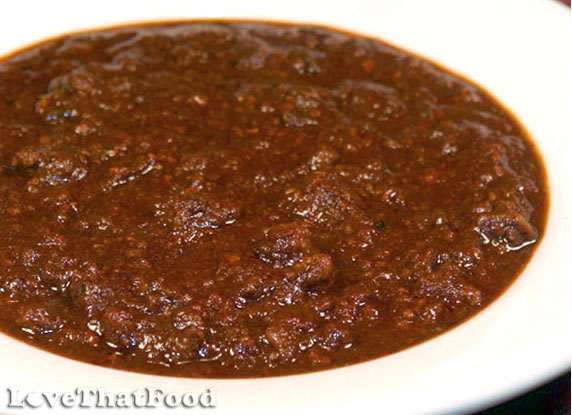 Cook Time:
2 or more hours
Tips:
If you opt to not use lean ground beef, additional unwanted fat can easily be scooped off top of chili after refrigerating.
Suggestion:
Delicious with a side of
Garlic Bread
and a
salad
. If desired, garnish with
croutons
, small soup crackers, shredded cheese (preferably cheddar) and/or warmed kidney beans.
This Burgundy Chili recipe is made with ground beef and chorizo and produces a thick and delicious tomato-flavored broth made with tomato puree, tomato sauce, burgundy, chili powder, red diced red onions and diced jalapenos. After this chili cooks for a minimum of 2
hours, the alcohol in the burgundy evaporates, and a subtle delightful flavor remains, giving this spicy chili a unique and delicious taste that all ages will enjoy. Though jalapenos are used with this chili recipe, the skins of the jalapenos are peeled and the seeds removed, which tones the spiciness down to a level that is not too mild and not too spicy so it can be enjoyed by everyone. Chili recipes can be made in many styles. Texas chili uses no beans and no vegetables except chili peppers. Vegetarian chili is made without meat. White chili usually contains great northern beans and turkey or chicken instead of beef. Chili Verde (green chili) is a Mexican version of chili made with tomatillos and roasted green chilies. To widen the spectrum of chili recipes, the spices, cuts of meat and other ingredients can vary. Burgundy Chili leans more on the Texas Chili side.
Ingredients
1 red onion, diced
2 tablespoons oil
2 lbs. ground beef (use lean for less fat)
8-10 oz. chorizo
4 oz. chili powder (1/2 cup plus 1/3 cup)
1/2 oz. cumin (2 tablespoons plus 1/2 teaspoon)
2 cloves garlic, minced
1 teaspoon coarse salt
1/2 cup chopped and peeled jalapeno chiles
1 teaspoon ground pepper
1 teaspoon Worcestershire sauce
1 teaspoon hot pepper sauce
1 cup burgundy
1 teaspoon basil
30 oz. tomato puree
20 oz. tomato sauce (1 28-oz. can, less 1 cup)
Directions
Brown onion in oil. Add ground beef and chorizo and cook until meat is brown (make sure to leave some nice-sized ground beef chunks). Add chili powder and cumin and stir with wooden spoon until thoroughly mixed. Combine garlic and salt on a flat surface and smash with the flat side of large knife to make a paste. Set aside.

Add jalapenos, oregano, pepper, Worcestershire, hot pepper sauce and garlic/salt paste to pot, stirring to blend. Add burgundy, basil, tomato puree and tomato sauce and stir again to thoroughly mix.

Simmer at least 2 hours with kettle loosely covered. Stir occasionally to prevent sticking. Skim off fat (if any) before serving. (Tip: After refrigerating, if chili has any fat, it will harden on top of chili, making it easy to scoop off before reheating.)
Other recipes you might like: