Chili Con Carne Loaf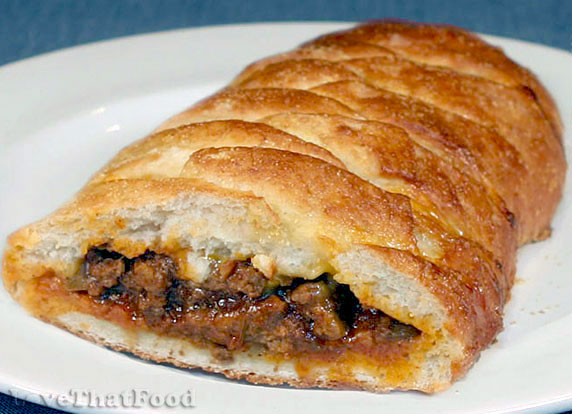 Tips:
After you have tried this loaf, try using your own favorite ingredients (read more below).
Suggestion:
Delicious served with a salad or typical sandwich sides.
Chili Con Carne Loaf is a simple and fun meal to make, yet presents itself with dramatic visual appeal. The filling is warm and tasty and the dough is fluffy with a slight outer crunch. This dish is much like a hot wrapped
sandwich, and features a filling made with tender lean ground beef, tomato sauce, diced green chilies, onion, garlic flavoring and a generous helping of grated cheddar cheese above and below the meat filling. This mild and flavorful filling is then placed in rolled-out homemade bread dough. Strips are cut into the dough and brought up around the filling, each strip overlapping each other over the top of this loaf, giving this dish an artistic look that will have people asking, "You made this?!" Once you learn how easy this recipe is to make, you may want to get a little creative and try using different variations of fillings in the dough. A few examples would be a pizza loaf, a breakfast loaf, or a chicken and ham loaf. In fact, the Pizza Loaf version of this recipe is now available - see Pizza Loaf for recipe. In any case, if you like meatball sandwiches covered with melted cheese, you will enjoy this Chili Con Carne Loaf!
Ingredients
3/4 lb. lean ground beef
8-oz. can tomato sauce
2 tablespoons instant minced onion flakes
1 4-oz. can diced green chili peppers
2 teaspoons chili powder
1/2 teaspoon garlic salt
2 1/4 cups flour (plus more if needed)
1 tablespoon sugar
1 teaspoon salt
1 package or 1 tablespoon bread yeast
1 cup warm water
1 tablespoon butter, melted
1 1/2 cups grated cheddar cheese
1 egg white, lightly beaten
Directions
Preheat oven to 400° F.

In a large skillet over medium-high heat, cook ground beef until browned. Pour off drippings. Add tomato sauce, onion, chili peppers, chili powder and garlic salt. Cook over medium heat, stirring occasionally for 5-8 minutes.

In a large mixing bowl, whisk together flour, sugar, salt and yeast.

Make a well in the middle of the flour mixture. Pour water and melted butter into the well. Gradually mix with a fork until fully combined and there are no crumbs. Transfer dough to a lightly floured work area and begin kneading by folding dough into itself repeatedly while gently squeezing. If dough is too sticky to knead and gets stuck to your fingers, sprinkle a small additional amount of flour over dough while kneading. Continue sprinkling additional flour until dough no longer sticks to your hands but is still soft. Continue kneading until dough is smooth and all flour has been incorporated into dough.

Grease a large baking sheet and sprinkle lightly with some cornmeal. Roll dough into a 14" x 10" rectangle and transfer to baking sheet. Place 1/2 of the cheese lengthwise down the center third section of the dough. Cover cheese with beef mixture. Top beef mixture with remaining cheese.

Cut 1-inch-wide strips along sides of filling out to dough edges. Alternating sides, lift one strip at a time and fold over top of filling at an angle, overlapping strips (try not to stretch dough).

Place a large shallow pan on counter and half fill it with boiling water. Place baking sheet on top of pan and cover meat loaf with a light-weight towel to prevent dough from drying out. Allow to rise for about 20 minutes.

Brush top and sides of loaf with egg white (this creates a nice shine during baking process), then sprinkle with additional cornmeal. Bake for 15-20 minutes or until golden brown. Cool slightly (about 1-2 minutes), then slice into individual servings and serve. Refrigerate leftovers and reheat to serve.
Other recipes you might like: