Beef Tostada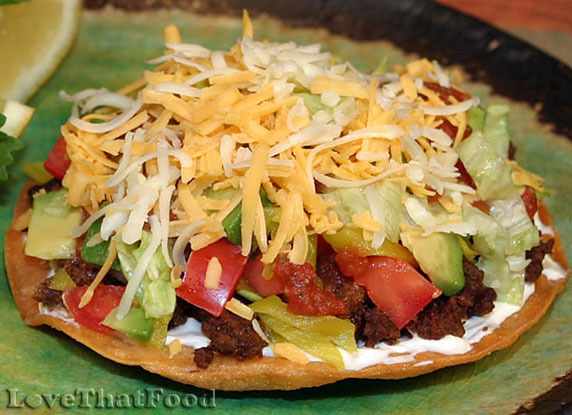 Tips:
If you have any leftovers, you can reserve the frying oil and use it the next day again for frying tortillas for lunch or dinner.
Beef Tostadas are so easy to make and are a great last minute dinner idea. You might already have many of the ingredients in your home. This recipe doesn't take much thought or planning, so it's the perfect meal to throw together after a long day. This is also the kind of meal that everyone
can customize to their own personal preference. Simply place all the tostada topping ingredients on the counter and let everyone assembly their own tostada!
The above photo shows these tostadas made with seasoned ground beef, layers of sour cream and homemade salsa, then topped with chopped tomatoes, avocadoes, pepperoncinis, iceberg lettuce and grated Monterey jack and cheddar cheeses. However, you can use any number of other ingredients, such as sliced black olives, refried beans, pinto or black beans, pickled jalapenos, a few dashes of hot pepper sauce (such as Tabasco), etc. This meal also works great as a hot lunch the following day if you have any leftovers. Simply fry another tortilla (you can reserve the oil you used the night before and reheat it), and reheat the seasoned beef in the microwave for about 20-30 seconds. Top with your favorite ingredients, and you've got a fabulous hot lunch!
Ingredients
6-8 corn tortillas
1 lb. ground beef
oil for frying tortillas



Seasoning




Dry



1 tablespoon dried onion flakes
1/2 teaspoon garlic powder
1 tablespoon chili powder
1 teaspoon cumin
1/4 teaspoon cayenne pepper (or 1/8 teaspoon for a milder spice)
1 teaspoon oregano (ground or dried)
1 teaspoon brown sugar
1 teaspoon salt



Wet

1/2 cup water
1 tablespoon cider vinegar
1 tablespoon ketchup



Tostada Toppings (all are optional)

Note: To make tostada in photo, use all ingredients below OR use any toppings you prefer)
8 oz. container sour cream
1 avocado, chopped into bite-size chunks
1-2 tomatoes, chopped into bite-size chunks
1 16-oz. (or smaller) jar sliced pepperoncinis
iceberg lettuce, chopped or thinly sliced
1/2-3/4 cup Monterey jack cheese, shredded
1/2-3/4 cup cheddar cheese, shredded
salsa (homemade or other)
Directions
Seasoning
In a small mixing bowl, whisk or stir together Dry Seasoning ingredients. Set aside near cooking area. In another small mixing bowl, whisk together Wet Seasoning ingredients and set aside near cooking area. Stack a few paper towels on a large plate near cooking area.
Tortillas
In a small skillet, add enough oil to make 1/4 inch deep. Heat until hot. When hot, gently place one tortilla at a time in skillet. Cook until first side turns golden, then turn over tortilla with tongs and cook other side until golden. When each tortilla is finished cooking, place on paper towels to drain. Make as many tortillas as you will need (you can store leftover meat in the fridge or freezer and fry new tortillas when you're ready to use the meat again).
Beef Mixture
Cook ground beef in a large skillet on medium-high heat until all pink is gone, breaking into small chunks while cooking. Drain excess liquid from skillet. Sprinkle Dry Seasoning mixture over meat and stir until thoroughly combined. Add Wet Seasoning Mixture mixture and stir to combine. Cook uncovered over low-medium heat, frequently stirring, for about 3 minutes or until liquid has almost completely evaporated yet meat is still moist. Remove from heat.
Assembly
Putting together your tostadas is a personal experience. You can add any of the Tostada Toppings mentioned above to your own preference. If using sour cream and/or refried beans, spread onto tortilla first, starting with refried beans. Add
homemade
or other salsa (and hot pepper sauce if you are using), then add any other preferred toppings, topping with lettuce then cheeses.
Other recipes you might like: