Caramel Cheesecake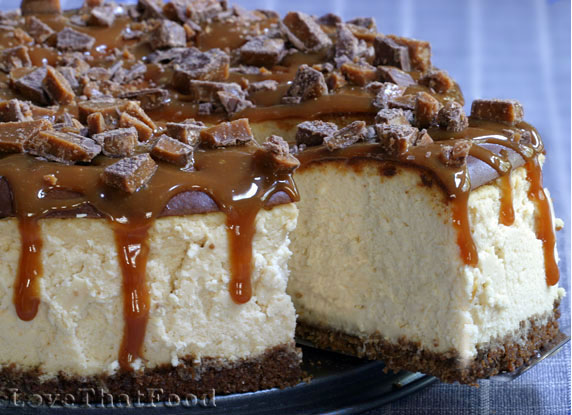 Tips:
Be sure to run a knife around the edge of the cheesecake after 15 minutes of cooling to allow cheesecake to settle evenly. Sections of or entire cheesecake may be frozen and thawed overnight in the refrigerator when ready to eat.
What could be more delicious, more irresistible and more decadent than a slice of rich, smooth and creamy cheesecake? Well, if you're a lover of caramel and English toffee, then clearly, the answer is this cheesecake! This Caramel Cheesecake recipe (also sometimes referred to as dulce de leche cheesecake or butterscotch cheesecake) produces a tall and fluffy cheesecake that sits on top of a gingersnap cookie crumb crust (as opposed to a commonly used graham cracker crumb crust). Caramel (or butterscotch)
sauce is generously drizzled over the top of the cheesecake, then crumbled and broken bits and pieces of English toffee candy are sprinkled over the caramel. The result is a combination of flavors and textures that will make your head spin!
This cheesecake is made using brown sugar instead of white, giving it that caramel (or dulce de leche or butterscotch) flair. The above photo shows Caramel Cheesecake topped with Mrs. Richardson's Butterscotch Caramel (a very authentic caramel / butterscotch topping found in grocery stores in a glass jar) and Skor candy bar pieces, though you can certainly use any caramel / butterscotch sauce or English toffee candy you prefer (such as Heath, Almond Roca, etc.). If you're not going to be eating this cheesecake within a week or so, you can freeze leftovers, then let them thaw out overnight in the refrigerator (you can also cut the cheesecake into portions and freeze each portion separately). If you plan on making this Caramel Cheesecake recipe for an event, holiday or any type of gathering, it will most definitely impress! 
Ingredients
Crust

1 1/2 c. crushed gingersnap cookies
2 T. sugar
1/4 c. butter, melted



Cheesecake

5 8 oz. packages of cream cheese, softened
1 1/3 c. packed brown sugar
3 T. flour
5 eggs
2 egg yolks
1 teaspoon vanilla extract
caramel or butterscotch topping (such as ice cream topping)
2 chocolate covered English toffee candy bars (such as Skor or Heath), crumbled
Directions
Preheat oven to 350° F. Lightly grease the bottom of a 9-inch springform pan. Wrap 2 layers of aluminum foil (preferably heavy duty foil) tightly around pan (foil around sides of pan should extend to top of pan) to form a watertight seal, being careful not to tear or pierce foil.
Crust
[Tip: To easily crush cookies into crumbs, process in a food processor (about 15-30 seconds)]. In a medium mixing bowl, combine cookie crumbs and sugar and stir to combine. Add melted butter and stir until evenly blended. Pour crumb mixture into bottom of foil-wrapped pan. Evenly spread around pan, then gently press down. Place in oven and bake for 14 minutes. Place on wire rack and allow to cool while you prepare cheesecake.
Cheesecake
In an electric mixer bowl, beat cream cheese on medium speed until fluffy, stopping to scrape sides of bowl once to incorporate all cheese. Add brown sugar and flour and beat again until smooth. Scrape sides of bowl, then add eggs and egg yolks one at a time, beating after each addition, just until combined. Scrape sides of bowl again, then add vanilla and briefly mix. Pour mixture over crust in pan and gently spread evenly around with a rubber spatula.
Place foil-wrapped springform pan in a roasting pan. Pour enough hot water into roasting pan to reach halfway up the sides of springform pan.
Place roasting pan with cheesecake and water in oven and bake for 70-75 minutes (1 hour 10 minutes to 1 hour 15 minutes) until edges appear set, and center appears nearly set when gently giggled.
Carefully remove roasting pan from oven, then carefully and steadily lift springform pan from water. Place cheesecake in springform pan on wire rack and allow to cool for 15 minutes. After cheesecake has cooled for 15 minutes, insert a sharp knife into the outer edge of cheesecake, and gently run knife around entire edge of cheesecake to loosen from sides of pan (this will allow entire cheesecake to settle evenly). Allow to cool completely for 1 3/4 hours, then remove foil, cover and chill overnight. (Tip: You can place cheesecake in an air-tight cake container or lightly cover with plastic wrap.)
Once cheesecake has cooled overnight, drizzle caramel / butterscotch topping over entire top of cheesecake. (Tip: If caramel has been refrigerated and is too firm to drizzle, heat for 5-10 seconds in the microwave until runny but not warm, then stir.) Top with chopped English toffee pieces. Serve topped with whipped cream if desired.
Other recipes you might like: