Cake
We don't need to wait for a birthday, holiday or other special occasion to inspire us to bake a cake! We can make them simply because they taste so amazing and bring us little
moments of joy. Often used to celebrate a special event, cakes are festive and decorative, and can be made in a large variety of styles and shapes, such as layer cakes, cupcakes, bundt cakes, coffee cakes, cheesecakes and more. While some cakes have the traditional bread-type filling coated with traditional sugar-based frosting, others might be filled with one or more layers of fruit, whipped cream or cream cheese frostings. No matter what type of cake you make, one thing is for certain - homemade is best, hands down. Here you will find recipes for layer cakes, bundt cakes, cinnamon rolls, cupcakes, coffee cakes, cheesecakes and muffins. New cake recipes will be regularly added to this page as time moves forward, so please visit again soon to check for new recipes.
Cake Recipes ▼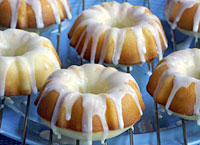 These
Mini Pound Cakes with Lemon Glaze
are as tasty and fun as they look! Just like other pound cakes, these little cakes have a chewier and slightly more dense texture than traditional light and fluffy cakes, making them conveniently easy to eat with your hands. These cakes are made with freshly squeezed lemon juice, giving them a mild lemon flavor, while the glaze topping, also made with fresh lemon juice and powdered sugar.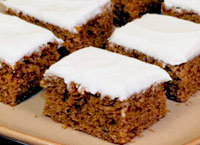 Molasses Cake Bars
are moist and delicious little squares of cake made with the distinct flavor of molasses as well as some cinnamon and cloves - festive spices often often used during the holidays. These bars are topped with a buttery frosting. If you enjoy gingerbread, spice cake, pumpkin pie or other desserts that celebrate the flavors of molasses, ginger, cinnamon, maple syrup, nutmeg and/or allspice, this cake recipe is a must try!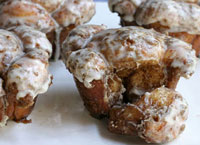 Monkey Bread Muffins
are pull-apart buns with a soft and tender dough and a buttery brown sugar and cinnamon baked-in filling that melts in your mouth. Fresh out of the oven, the tops are brushed with a delicious mouth-watering glaze that makes these buns officially irresistible! These buns have separate sections much like monkey bread (or pull-apart bread) that allow you to pop one delicious morsel in your mouth at a time!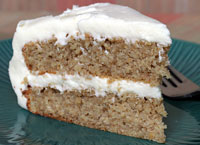 This moist cake has fabulous festive flavor as well as nutritional health benefits! Made with oatmeal and applesauce and seasoned with ground cloves and cinnamon (and raisins, if desired), this
Oatmeal Applesauce Cake with Cream Cheese Frosting
will reduce the guilt factor from having a slice of cake. The cream cheese frosting for this cake delivers irresistible flavor and a melt-in-your-mouth experience!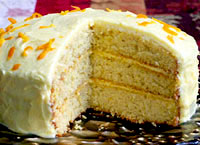 This
Orange Cake recipe
produces a very moist cake flavored with the undeniable taste of orange. Orange zest gives this cake its fresh and distinctive orange flavor and colors the cake with tiny orange flecks, while buttermilk gives it wonderful moistness and substance. The buttery frosting is also flavored with orange zest along with freshly squeezed orange juice (or orange liqueur) giving the frosting fresh orange flavor.
This recipe for
Orange Cinnamon Crumb Cake
features an mildly sweet light, soft and fluffy pan cake flavored with orange zest and orange juice, giving this cake a nice hint of fresh citrus flavor as well as enhanced vibrant color. The cinnamon crumb topping for this cake is as easy as ever to make, and has a nice slightly crisp and crumbly texture after baking. This cake can be made with prepared or fresh squeezed orange juice.