Cake
We don't need to wait for a birthday, holiday or other special occasion to inspire us to bake a cake! We can make them simply because they taste so amazing and bring us little
moments of joy. Often used to celebrate a special event, cakes are festive and decorative, and can be made in a large variety of styles and shapes, such as layer cakes, cupcakes, bundt cakes, coffee cakes, cheesecakes and more. While some cakes have the traditional bread-type filling coated with traditional sugar-based frosting, others might be filled with one or more layers of fruit, whipped cream or cream cheese frostings. No matter what type of cake you make, one thing is for certain - homemade is best, hands down. Here you will find recipes for layer cakes, bundt cakes, cinnamon rolls, cupcakes, coffee cakes, cheesecakes and muffins. New cake recipes will be regularly added to this page as time moves forward, so please visit again soon to check for new recipes.
Cake Recipes ▼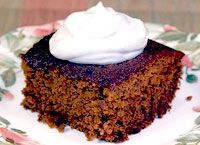 This
Gingerbread Cake recipe
produces a moist and delicious cake featuring the distinct flavors of molasses and ginger (both minced crystallized ginger and grated fresh ginger root). The molasses, brown sugar, honey and crystallized ginger are used as the sweetening agents, while also giving this cake a uniquely delicious flavor that stands apart from traditional cake recipes. Divine with whipped cream or vanilla ice cream.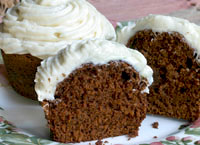 If you like carrot cake, spice cake or gingerbread cake, you'll love this homemade cupcake recipe!
Ginger Cupcakes with Cream Cheese Frosting
feature all those wonderful spices and flavors often found in holiday desserts around Thanksgiving and Christmas, such as ginger, cloves, cinnamon, molasses and brown sugar. A buttery cream cheese frosting gives these cupcakes the perfect flavor compliment that will melt-in-your-mouth!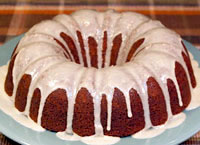 This is a fabulous moist and spongy
bundt cake recipe
that is great for any occasion and has a festive flavor that is perfect for the holidays. The wonderful flavor and texture of this cake begins with graham cracker crumbs, orange juice and orange zest and a small amount of cinnamon. Brown sugar is used as the main sweetening ingredient, which adds moisture and rich flavor. A delicious brown sugar glaze is drizzled over the top.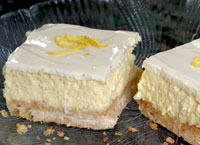 Does the idea of making cheesecake sound a little too involved and time-consuming to you? Well, these
Lemon Cheesecake Bars
will ease your mind, because they are one of the easiest cheesecake recipes you'll ever encounter! These quick and easy and incredibly irresistable lemon cheesecake bars are mixed in a blender and baked in a flaky crust, then topped with a mildly sweetened sour cream topping.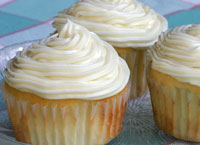 These irresistable
Lemon Ginger Cupcakes with Cream Cheese Frosting
are moist and fluffy, and have a subtle fresh lemon flavor with a hint of ginger. Freshly squeezed lemon juice and lemon zest both contribute to the wonderfully fresh lemon flavor, while minced crystalized ginger adds the hint of ginger that marries beautifully with the lemon. What takes these cupcakes over the top is the buttery, cream cheese frosting!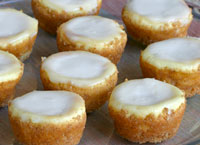 These
Mini Cheesecakes
have all the irresistible flavor and texture of cheesecake, and take only 20 minutes to bake! This mini cheesecake recipe makes 48 mini cheesecakes and features a graham cracker coating and a sweetened sour cream topping. The beauty of making mini cheesecakes is that they bake faster and chill faster in the fridge. Great for parties, holidays or any social event, and of course, for dessert anytime!