Cake
We don't need to wait for a birthday, holiday or other special occasion to inspire us to bake a cake! We can make them simply because they taste so amazing and bring us little
moments of joy. Often used to celebrate a special event, cakes are festive and decorative, and can be made in a large variety of styles and shapes, such as layer cakes, cupcakes, bundt cakes, coffee cakes, cheesecakes and more. While some cakes have the traditional bread-type filling coated with traditional sugar-based frosting, others might be filled with one or more layers of fruit, whipped cream or cream cheese frostings. No matter what type of cake you make, one thing is for certain - homemade is best, hands down. Here you will find recipes for layer cakes, bundt cakes, cinnamon rolls, cupcakes, coffee cakes, cheesecakes and muffins. New cake recipes will be regularly added to this page as time moves forward, so please visit again soon to check for new recipes.
Cake Recipes ▼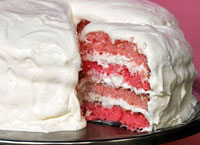 If you think this
Pink Lemonade Cake
looks like a marshmallow dream, you're right on target! This 4 layer cake recipe not only has refreshing lemon flavor, it is bright and col orful! The cake derives its lemon flavor from lemonade concentrate and lemon extract. The buttercream frosting is also flavored with lemonade concentrate and lemon extract, and is made with marshmallow cream, giving it that marshmallow flair!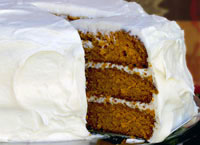 If you enjoy carrot cake and/or spice cake, or enjoy the flavor of pumpkin, you will love this delicious pumpkin cake recipe!
Pumpkin Cake with Cream Cheese Frosting
is as moist as can be, made with canned pumpkin and a generous dose of cinnamon. The buttery cream cheese frosting is irresistably delicious as well, and is the perfect match for this scrumptuous cake! Perfect served anytime, or for Halloween, Thanksgiving or Christmas!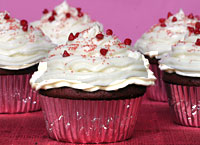 Red Velvet Cupcakes
(and Red Velvet Cake) are more popular than ever these days, and when topped with a buttery cream cheese frosting as these Red Velvet Cupcakes are, they are out of this world! This Red Velvet Cupcake recipe features a moist cake with a mild cocoa-flavor and a rich, dark reddish-brown color. These cupcakes are decorated with red cake decorations to honor the 'red velvet' theme.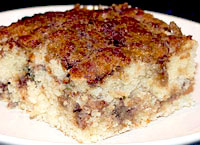 Sour Cream Coffee Cake
is another fabulous recipe passed down by my grandmother, Bonnie, with a few slight changes to improve on what was already a winner recipe. This sour cream coffee cake recipe features a moist and fluffy cake with a delicious moist and buttery cinnamon and sugar swirl filling throughout that melts in your mouth. Enjoy this coffee cake fresh out of the oven, at room temperature, or reheated in the microwave.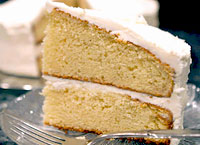 Vanilla Buttermilk Cake recipe
is made with buttermilk and 5 eggs, producing a delightfully spongy, moist and slightly dense 2-layer cake. The delicious frosting is made with with white chocolate and whipped cream, giving it a uniquely delicious flavor and hearty texture. This Vanilla Buttermilk Cake also tastes great slightly warmed in the microwave, and can also be made as a sheet cake.