Cake
We don't need to wait for a birthday, holiday or other special occasion to inspire us to bake a cake! We can make them simply because they taste so amazing and bring us little
moments of joy. Often used to celebrate a special event, cakes are festive and decorative, and can be made in a large variety of styles and shapes, such as layer cakes, cupcakes, bundt cakes, coffee cakes, cheesecakes and more. While some cakes have the traditional bread-type filling coated with traditional sugar-based frosting, others might be filled with one or more layers of fruit, whipped cream or cream cheese frostings. No matter what type of cake you make, one thing is for certain - homemade is best, hands down. Here you will find recipes for layer cakes, bundt cakes, cinnamon rolls, cupcakes, coffee cakes, cheesecakes and muffins. New cake recipes will be regularly added to this page as time moves forward, so please visit again soon to check for new recipes.
Cake Recipes ▼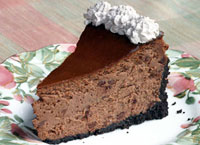 Calling all lovers of chocolate and cheesecake! This
Chocolate Chocolate Chip Cheesecake
recipe makes an incredibly rich and creamy cheesecake that will give you a quadruple dose of chocolate! Melted semi-sweet chocolate chips are mixed in to the cheesecake, then mini chocolate chips are mixed just before pouring it all onto a chocolate wafer pie crust. Whipped topping. A whipped topping flavored with cocoa decorates the top.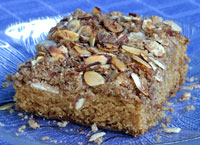 This
cinnamon coffee cake
is made with buttermilk, giving the cake a moist texture, while a cinnamon crumb topping combined with some sliced almonds is sprinkled over the top before baking, giving it a nice crumbly and nutty crunch. (Note: If you are not fond of nuts in your coffee cake, you can make this topping without the almonds, and the coffee cake will still have a delightful crumbly topping!)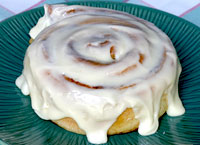 I sincerely doubt there is a more delicious cinnamon roll out there. These
cinnamon rolls
are made with generous amounts of cinnamon, brown sugar and butter that are rolled up inside a soft dough, sliced into individual rolls, then baked to a light golden brown. The rolls are then topped with an incredible buttery cream cheese icing that melts down the sides and melts in your mouth! Delicious hot from the oven or at room temperature.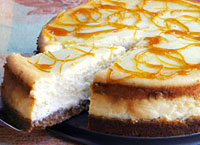 This
Citrus Cheesecake recipe
combines the wonderful creaminess of cheesecake with the refreshing flavors of citrus, derived from thezest and juice of fresh lemon and lime. The crust for this cheesecake combines a traditional graham cracker crust with crushed pecans and a small amount of whole wheat flour, giving the crust added chewiness and a nutty crunch. a lacy pattern of amber-colored crystallized sugar is swirled over the top.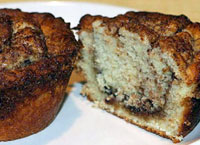 This scrumptious and easy
Coffee Cake Muffins
recipe uses sour cream, giving the cake moisture and wonderful flavor. The tops have a nice light and crispy coating, while the moist and crumbly interior cake is filled with buttery swirls of cinnamon and brown and white sugars that melt in your mouth! These muffins follow
Grandma's Coffee Cake recipe
, yet allow you to make individual servings that are perfect for all occasions.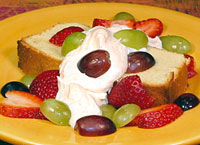 Fruity Citrus Cake
is a tangy cake made with lemon and orange zest and freshly squeezed lemon juice, topped with a citrus-flavored whipped topping and garnished with fresh fruit, including strawberries and red, green and purple grapes. This cake recipe is similar to other pound cake recipes, in that it produces a fairly dense cake that is beautifully complimented by any number of toppings and garnishes.