Chocolate Chip Sour Cream Coffee Cake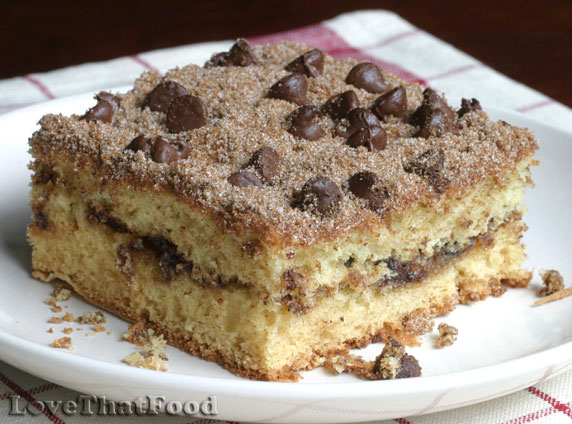 Yield:
12-20, depending on serving portions
Tips:
White morsels may be substituted for chocolate chips, if desired. Any preferred type of nuts can be used, though are optional.
Suggestion:
Serve at room temperature or warm as a breakfast or dessert.
When it comes to searching for a great coffee cake recipe, there are plenty of tasty varieties of coffee cake to be found! Some coffee cakes are flavored with a hint of orange (see
Orange Cinnamon Crumb Cake
) or lemon and/or are topped with an orange or lemon glaze, while some are moistened with yogurt or sour cream (like this one). Some coffee cakes have a delicious crumbly topping made with a mixture of cinnamon, sugar, brown sugar and perhaps flour, oats or nuts (such as
Cinnamon Coffee Cake with Almond Crumb Topping
), while some have irresistible pockets of a buttery cinnamon, brown sugar and
granulated sugar mixture that gives the entire coffee cake fabulous moisture and amazing flavor, such as
Sour Cream Coffee Cake
. All types of coffee cake are delicious, so it all comes down to what type of coffee cake you happen to be craving.
Most coffee cake recipes produce a coffee cake with a spongy like texture. Though coffee cake is sweetened, it is not quite as sweet as traditional layered cakes that are coated with frosting, making them perfect for breakfast, snacking, social gatherings or dessert.
This Chocolate Chip Sour Cream Coffee Cake recipe is a spongy cake, featuring a couple layers of a unique mixture of chocolate chips, cinnamon, brown sugar and granulated sugar and is quite moist, thanks to a generous helping of sour cream (1 cup). As with most coffee cake recipes, this coffee cake tastes great warm, fresh from the oven, at room temperature, or can be easily reheated in the microwave later. Whether you serve this coffee cake for breakfast, as a snack or dessert, you'll have plenty to go around!
Ingredients
Coffee Cake

1/2 cup (1 stick) butter, softened
1 cup granulated sugar
2 eggs
1 teaspoon vanilla
2 cups flour
1 teaspoon baking soda
1 teaspoon baking powder
1/2 teaspoon salt
1 cup sour cream



Topping

1/3 cup brown sugar
1/4 cup granulated sugar
2 teaspoons cinnamon
1 cup (or 1 6-oz package) chocolate chips
1 cup chopped nuts (optional)
Directions
Coffee Cake
Preheat oven to 350°F.
In an electric mixer bowl, cream together butter and sugar. Add eggs and beat until well-blended. In a separate mixing bowl, combine flour, baking soda, baking powder and salt. Add one-half of the flour mixture to the butter, sugar and egg mixture and mix until blended. Blend in sour cream, then add remaining flour mixture. Add vanilla and mix again just until blended.
Topping
In a small mixing bowl, whisk together brown sugar, granulated sugar and cinnamon until fully blended. Spread half of the dough in a buttered and floured 9x13-inch pan. Cover with half of the cinnamon and sugar mixture, then evenly sprinkle one-half of the chocolate chips over the top. Top with the remaining one-half of cake batter, dropping in dollops over the first layer of topping ingredients, then carefully smooth out, covering entirely. (Don't worry too much about getting the batter spread completely to the edges of the pan, because the batter will spread out while baking.) Evenly sprinkle remaining topping cinnamon and sugar mixture, then sprinkle evenly over the top with chocolate chips. Bake for 30-35 minutes. Serve warm fresh from the oven or later at room temperature. Once cooled, cover with plastic wrap to prevent cake from drying out. Leftovers may be warmed in the microwave for about 30 seconds per serving, if desired.
Other recipes you might like: