Turkey Vegetable Macaroni Soup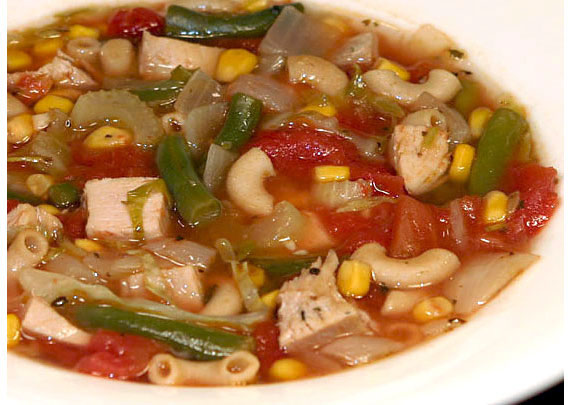 Tips:
Chicken may be used instead of turkey if desired. Potato chunks may substituted for macaroni. If you prefer more broth, simply add more water at beginning of cooking process, adding one chicken bouillon per cup of water. You can use fresh cooked green beans instead of canned if desired.
Turkey Vegetable Macaroni Soup is filled with wholesome ingredients and abundant flavor! This healthy soup recipe only takes about 30 minutes to make and is a great
way to use up some of those turkey leftovers during the holidays. (You can also substitute chicken for the turkey.)
Featuring chunks of turkey (or chicken), green beans, corn, celery, tomatoes, shredded cabbage (optional) and elbow macaroni (and let's not forget the onion and garlic), this soup recipe provides a full and balanced meal on its own!
Turkey Vegetable Macaroni Soup produces a mild liquidy broth that is full of flavor. This colorful and healthy soup recipe is as simple as a few minutes of sautéing, then tossing your ingredients into a pot. As always, a side of bread or homemade croutons goes wonderfully with any hot bowl of soup!
Ingredients
1 small onion, chopped
1/2 cup sliced celery
2 cloves fresh garlic, crushed
2 tablespoons olive oil
1 16-oz. can whole, peeled tomatoes, cut-up and juices reserved
1 7-oz. can whole kernel corn, liquid reserved
1 8-oz. can cut green beans, liquid reserved
1 cup shredded cabbage (optional)
1 cup uncooked elbow macaroni
2 cups cubed turkey (or chicken)
1/2 teaspoon dried basil
1/2 teaspoon marjoram
1/2 teaspoon oregano
1/4 teaspoon sage
1 bay leaf
2 chicken bouillon cubes
1 teaspoon salt
1/4 teaspoon pepper
2 cups water
1/2 cup red wine
Directions
In a 3-quart Dutch oven or soup pot, sauté onion, celery and garlic in oil until onion becomes transparent (about 3-4 minutes). Add tomatoes (with juice), corn (with liquid), green beans (with liquid), cabbage, macaroni, turkey (or chicken), basil, marjoram, oregano, sage, bay leaf, chicken bouillon, salt, pepper, water and red wine.

Bring to a boil. Cover and reduce heat. Simmer for 30 minutes, stirring occasionally. Serve.
Other recipes you might like: