Potato and Spinach Lasagna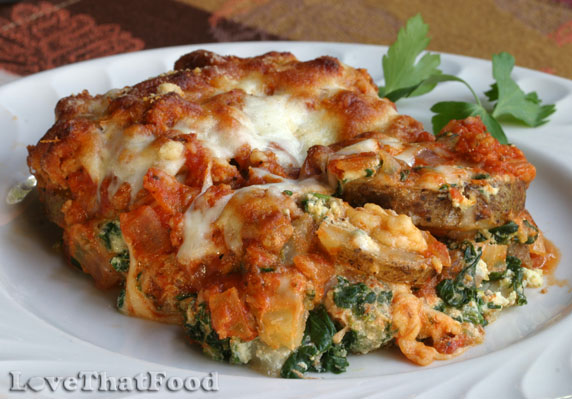 Cook Time:
1 hour, 15 minutes
Tips:
Potatoes may be sliced with skins still on, or may be peeled prior to slicing, depending on personal preference.
If you're planning a lasagna dinner, there are quite a few varieties of lasagna to consider! When we think of lasagna, the first lasagna recipe that might come to mind is the classic meat and cheese lasagna often served in restaurants. However, vegetarian lasagna has become increasingly popular, and can be made with a variety of vegetables or made using only spinach as the vegetable, which is appropriately called spinach lasagna. Spinach lasagna is most commonly served in the form of a vegetarian lasagna recipe, in which no meat is used and the typical lasagna cheeses are included, such as ricotta, mozzarella, Parmesan and sometimes even cottage cheese. In addition to the spinach and cheese, traditional lasagna noodles are used with vegetarian lasagna,
often along with some tomato sauce, marinara or pasta sauce. In this case, Potato and Spinach Lasagna, also a healthy lasagna recipe, features all of these fabulous lasagna ingredients, though the lasagna noodles are replaced with sliced potatoes, and some lean ground turkey is added. (Note: Ground chicken or lean ground beef can be used instead of the turkey, if desired.)
This easy lasagna recipe feeds plenty, and requires very little preparation. The skins are left on the potatoes, thawed frozen packaged spinach is used, and you can choose your own favorite jar of pasta sauce, all which help to save a good deal of time and effort. The sliced potatoes are first tossed in a
mixing bowl
with some olive oil, seasonings and herbs. The seasoned potatoes are then baked until tender, giving the potatoes a wonderful baked-in flavor before they even enter the lasagna layers! The ground turkey is cooked with chopped onions and seasonings, then the pasta sauce is added, creating a savory and flavorful lasagna sauce. The potato, cheese and meat sauce are then layered in a casserole dish, Parmesan cheese is sprinkled over the top, and the lasagna is popped back into the oven until hot, bubbly and the cheese has melted. The result is a colorful and healthy lasagna dinner that will impress your guests and leave them satisfied long after the last bite!
Ingredients
2 tablespoons olive oil
2 garlic cloves, minced
1/2 teaspoon salt
1/2 teaspoon pepper
5 large baking potatoes, cut into 1/4-inch-thick slices
1 lb. ground turkey, chicken or beef
1 large onion, chopped
1/4 teaspoon Italian seasoning
1/4 teaspoon garlic salt
1/4 teaspoon ground black pepper
1 24-26-oz. jar pasta sauce (any flavor)
1 15-oz. container ricotta cheese
1 10 oz. package frozen chopped spinach, thawed and drained well
2 cups (8 oz.) shredded mozzarella cheese
2-4 tablespoons grated Parmesan cheese
Directions
Preheat oven to 425° F.
In a large
mixing bowl
, combine oil, garlic, salt and pepper. Add potato slices and toss to coat. Spread potatoes in an ungreased 15x10-inch baking pan. Cover with aluminum foil and bake for 35-40 minutes, or until potatoes are tender. allow to cool for 15 minutes.
Reduce oven temperature to 350° F.
In a large skillet, brown turkey (or chicken or beef) with onions and seasonings. Drain well. Add pasta sauce and simmer on low, uncovered, for about 10 minutes.
In a medium
mixing bowl
, stir together ricotta and spinach. Arrange 1/3 of the potato slices evenly in a greased 9x13-inch
casserole dish
(nonstick cooking spray, olive oil or butter may be used). Place 1/2 of the spinach and ricotta mixture evenly over the first layer of potatoes. Spread 1/3 of the meat sauce over the spinach and ricotta layer, then top with 1/3 of the mozzarella. Repeat layering process with another 1/3 of the potatoes, the remaining 1/2 of the spinach and ricotta mixture, 1/3 of the meat sauce and 1/3 of the mozzarella. Top with remaining potatoes, meat sauce and mozzarella. Sprinkle Parmesan evenly over the top.
Bake, uncovered, for 35-40 minutes, or until bubbly. Allow to stand for 5 minutes before serving.
Other recipes you might like: