Potato Cheese Casserole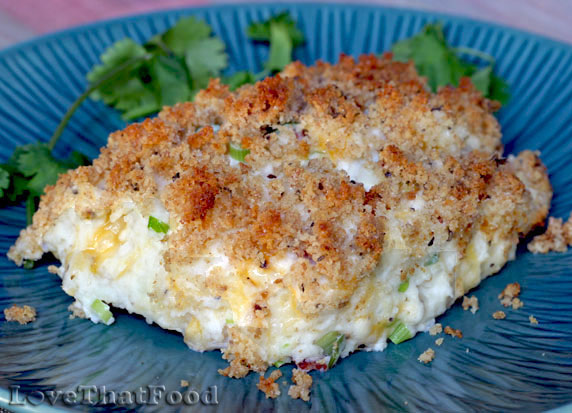 Tips:
Seasoned bread crumbs may be used instead of plain bread crumbs, if desired - simply omit the salt, pepper and parsley.
Suggestion:
Serve as a side dish to any meat, fish or poultry main course.
If you've ever had the opportunity to try
Twice-Baked Potatoes
and enjoyed all the wonderful flavors they embrace, then you will thoroughly enjoy this very tasty Potato Cheese Casserole! This easy potato casserole recipe (which some
might refer to as a mashed potato casserole because of the tenderness of the potatoes) features your choice of Russet, Gold Yukon or other yellow potatoes (boiled, then grated), grated cheddar cheese, sliced green onions, sour cream, bacon bits and a little butter, all mixed together and placed in a casserole dish. To top it all off, a delicious buttery seasoned bread crumb topping is sprinkled over the top, turning golden brown and crispy as it bakes. There are quite a variety of potato cheese casserole recipes out there, some which might require a bit of time and effort to put together. This Potato Cheese Casserole recipe is exceptionally easy to make and serves 12 people, which makes it a perfect casserole dish to serve for the holidays, parties, or any other events that bring small crowds together. Potato Cheese Casserole is of course perfect for serving at family dinners as well. Simply store leftovers (if there are any!) in the refrigerator and briefly reheat in the microwave when you're ready to dive in again!
Ingredients
Casserole

6 medium Russet potatoes
6 slices bacon
1/2 cup (1 stick) butter, divided
1 pint sour cream
1 cup shredded cheddar cheese
1 cup chopped green onions
1/4 teaspoon salt
1/8 teaspoon ground black pepper



Bread Crumb Topping

1/2 cup plain bread crumbs
1/2 teaspoon dried parsley
1/8 teaspoon salt
pinch of ground black pepper
Directions
Preheat oven to 350° F.

Fill a large sauce pan with enough water to cover all potatoes and bring to a boil. Place potatoes (with skins still on) in boiling water and boil over medium-high heat for 30 to 35 minutes or until you can fairly easily pierce through center of potatoes with a fork.

Cook bacon and crumble into pieces. Set aside. Once potatoes are cooked, drain and allow to cool for about 5 minutes. Grate potatoes with a cheese grater and place in a large mixing bowl. Melt half of the butter. Add to potatoes the bacon pieces, melted butter, sour cream, grated cheese, green onions, salt and pepper and stir with a fork to combine. Transfer mixture to a buttered 9 x 13-inch casserole dish and evenly spread around with a fork. Sprinkle buttered and seasoned bread crumbs evenly over top of casserole.

Bake for 30 minutes, or until casserole is heated through and the top has turned a light golden brown.
Other recipes you might like: