Twice-Baked Potatoes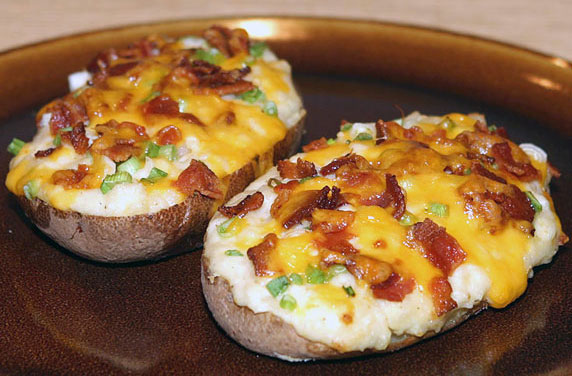 Tips:
Russet or other potatoes can be used.
Suggestion:
Serve as a side dish to any meat, poultry or fish main dish, or serve as a small main course or lunch.
If you've ever wondered how to make Twice-Baked Potatoes (some might also refer to them as "Double-Baked Potatoes"), this Twice-Baked
Potatoes recipe will show you just how easy it is, and how incredibly delicious they are! Potatoes are first baked, then removed from the oven. The potatoes are then sliced in half, and the potato meat is removed and placed into a mixing bowl, where it is combined with broken bits of crisp bacon, sliced green onions, sour cream, butter, milk and grated cheddar cheese. This tasty mixture is then stuffed back into the hallowed potatoes, and the potatoes are topped with more sliced green onions and grated cheese. Then comes the "twice-baked" part! The potatoes placed back into the oven and baked for another 15 minutes - just long enough to heat up the stuffed potatoes and allow the cheese on top to melt. These potatoes are truly delicious and will be a huge hit with all ages!
Ingredients
4 large baking potatoes
8 slices bacon
1 cup sour cream
1/2 cup milk
4 tablespoons butter
1/2 teaspoon salt
1/2 teaspoon pepper
1 cup shredded cheddar cheese, divided
8 green onions, sliced, divided
Directions
Preheat oven to 350° F.

Wash potatoes with a brush under running water until clean. Stab potatoes with a fork a few times, turning potatoes to stab evenly around the entire surface (this allows the steam to escape). Place potatoes on a baking sheet and bake in preheated oven for 1 hour to 1 hour and 15 minutes, or until potatoes feel fairly soft and flexible when squeezing gently with an oven mitten (cook time depends on size of potatoes and oven). While potatoes are baking, fry bacon in a large skillet until thoroughly cooked. Remove bacon from skillet and set aside.

When potatoes are done baking, allow them to cool for about 5 minutes. Slice potatoes in half lengthwise and scoop the potato flesh (being careful to not tear potato skins) out of the skins and place in a large bowl. Set skins aside for later use.

Add sour cream, milk, butter, salt, pepper, 1/2 cup cheese and 1/2 of the green onions to the potato flesh. Mix with an electric hand mixer until well blended and creamy. Spoon the mixture into the potato skins and top with remaining green onions and bacon, then top with remaining cheese.

Place the potatoes on a baking sheet, return to oven and bake for another 15 minutes.
Other recipes you might like: