Asian Turkey Burgers with Pickled Asian Slaw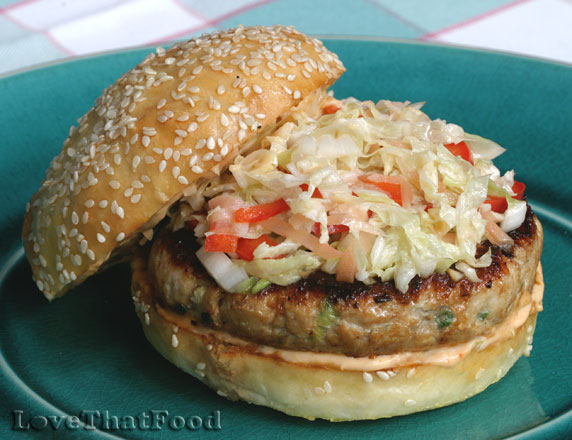 Cook Time:
About 10 minutes
Tips:
Ground chicken may be used instead of ground turkey, if desired. Spice level in the Chili Lime Spread can be controlled by reducing the amount of Asian chili sauce or by the type of Asian chili sauce you use (some chili sauces are hotter than others).
Suggestion:
Delicious served for lunch or dinner.
Asian turkey burgers are a great twist to traditional basic turkey burgers, because they can be seasoned with any variety of Asian sauces and spices to give the burgers a uniquely delicious flavor. Asian turkey burgers can also be adorned with flavorful spreads and garnishes, as with this delicious recipe. Turkey burgers are often prepared as a healthy alternative to traditional ground beef hamburgers, because they typically contain fewer calories than beef as well as a low fat content. Asian turkey burgers continue with that light and healthy theme, while adding color, flavor, texture and spice!
This Asian turkey burger recipe will entertain your taste buds on so many levels! Before you even get started with preparing the turkey patties, a lively spread made with mayonnaise, freshly squeezed lime juice, finely grated lemongrass and Asian chili sauce is whipped up that will be applied to the toasted hamburger buns. (Tip: You can easily control the amount of spice
in the spread by reducing the amount of chili sauce, or by the type of chili sauce you use. Also,if you prefer to reduce the calorie content, light or lowfat mayonnaise can be used). Next comes the tangy Asian coleslaw made with Napa cabbage, which is more tender and delicate than traditional cabbage. The Napa cabbage is thinly sliced and combined with thinly sliced red bell peppers and pickled ginger. Pickled ginger is the type of thinly sliced ginger you'll find served as a garnish for sushi, and you'll likely find packaged in jars in the grocery store. The Asian slaw is tossed with a tangy mixture of rice wine vinegar, sesame oil and garlic, and chills in the fridge while the turkey patties are being prepared. That now brings us to the Asian turkey burgers! The ground turkey (or ground chicken, if you prefer) is flavored with some hoisin sauce, soy sauce and a little sesame oil, along with some minced green onions and seasoning and is formed into patties. The turkey patties are grilled in an oiled nonstick skillet or on an oiled grill, giving them golden brown color and a wonderful outer crisp. The
hamburger buns
are then buttered and placed on the grill until they also become golden and crispy. Let the Asian turkey burger assembly begin! Some Chili Lime Spread is applied to the toasted buns and the turkey patties are placed on top of the spread. Last but certainly not least, some Asian slaw is arranged on top of the turkey patties. Place the top bun on top of all that incredible goodness. and get ready for a turkey burger like no other!
Ingredients
Spicy Chili Lime Spread

1 cup mayonnaise
1-2 tablespoons Asian chili sauce (or as desired to control spice)
zest and juice of 1 lime
1 tablespoon bruised lemongrass, finely minced (from 1 stalk)
salt and freshly ground pepper to taste



Ginger Slaw

1/4 cup rice vinegar (or rice wine vinegar)
2 tablespoons sesame oil
2 cloves garlic, minced
salt and cracked or freshly ground black pepper to taste
3 cups thinly sliced napa cabbbage (about 1/4 small head)
1/4 red bell pepper, thinly sliced
2 tablespoons thinly sliced pickled ginger (the type served with sushi)



Turkey Patties

1 1/2 lbs. ground turkey (or ground chicken)
2 tablespoons hoisin sauce
1 tablespoon sesame oil
1 tablespoon soy sauce
4 cloves garlic, minced
4 green onions (green and white parts), minced
salt and freshly ground pepper to taste
olive oil for grilling
4 prepackaged or homemade sesame seed hamburger buns, halved and buttered
Directions
Spicy Chili Lime Spread
In a small
mixing bowl
, whisk together the mayonnaise, chili sauce, lime zest, lime juice and lemongrass. Season to taste with salt and pepper. Cover and place in refrigerator.
Pickled Asian Slaw
In a medium
mixing bowl
, whisk together the rice vinegar (or rice wine vinegar), sesame oil and garlic. Season to taste with salt and pepper. Add the sliced cabbage, sliced red bell peppers and pickled ginger and toss to thoroughly coat. Cover and place in refrigerator until ready to use.
Turkey Patties
In a large
mixing bowl
, combine ground turkey (or chicken), hoisin, sesame oil, soy sauce, garlic and green onions. Mix (preferably with hands - if preferred,
disposable gloves
can be used), then form into 4-5 equally-sized patties about 1/2-inch thick and 3 1/2 to 4 inches wide. (Note: Try to make the patties about the same size as your
hamburger buns
, because turkey patties will hardly shrink at all during cooking due to low or no fat content). Sprinkle tops of patties lightly with salt and pepper. (Note: The turkey patties will be wetter than your average turkey patty because of the sauces added. If patties lose some of their shape while transferring them to the skillet, you can reshape them with a spatula once they're on the skillet.)
Cook the patties in a
nonstick skillet
or on a griddle with a little olive oil over medium heat until golden brown on each side (about 4-5 minutes per side). (Note: Patties can easily burn, so watch the heat closely and adjust it accordingly to avoid burning.) Once cooked, transfer turkey patties to a plate or tray and allow to sit while grilling buns. Place buttered buns on the skillet or griddle, buttered side down, and grill until golden brown in color (about 30 seconds to 1 minute). (Tip: Gently pressing on buns will help them to brown more quickly and more evenly.)
Assembly
Spread some of the Spicy Chili Lime Spread on each half of the buns. Place a turkey patty on each bottom bun, then top each patty with some pickled Asian slaw. Place top bun over the slaw and serve with more coleslaw on side, if desired.
Other recipes you might like: