Buttermilk Oatmeal Cookies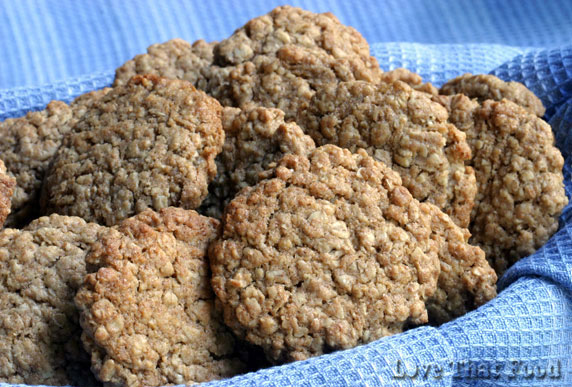 Yield:
About 3 1/2 dozen (or 42) cookies
Tips:
May also be made with all-purpose flour if you have no whole wheat flour handy. Chocolate chips or other sweets can be added to cookie batter if preferred. See recipe description for ideas.
Suggestion:
May be served as a dessert, a quick breakfast or for anytime snacking.
Buttermilk Oatmeal Cookies are chewy and delicious, and lean on the healthy side. This oatmeal cookie recipe uses a generous amount of oats, along with whole wheat flour, brown sugar, butter
and buttermilk, and can be whipped up in very little time. These cookies have a texture and flavor similar to those chewy healthy breakfast bars you'll find in stores. They are a wonderful balance of sweet and wholesome, and are perfect to eat as a light and easy dessert, a quick (or not-so-quick) breakfast on the run, or as a snack anytime of day. No doubt about it - these chewy oatmeal cookies taste truly delightful in their true and simple old fashioned form. However, if you prefer an added touch of sweetness to your cookies, no problem! Simply stir in about 1 cup of your favorite of goodies into the cookie batter just before baking. For example, you might want to try adding some semi-sweet or milk chocolate chips, butterscotch morsels, raisins, M&M candies, Reese's Pieces or any other goodies you favor. With or without extra goodies, these oatmeal cookies are delightful!
Ingredients
1/2 cup (1 stick) butter, softened
1 cup packed brown sugar
2 tablespoons buttermilk
1/2 teaspoon vanilla extract
1 cup quick-cooking oats
3/4 cup plus 2 tablespoons whole wheat flour
1/2 teaspoon baking soda
1/2 teaspoon salt
Directions
Preheat oven to 375° F.

In an electric mixer bowl, combine butter, brown sugar and buttermilk. Beat on low-medium speed until thoroughly combined, scraping sides of bowl to incorporate all ingredients. Remove bowl from mixer and set aside.

In a medium mixing bowl, whisk together oats, flour, baking soda and salt. Add flour and oats mixture to butter and sugar mixture and stir until thoroughly blended, scraping sides of bowl again to incorporate all ingredients.

Shape dough into rounded 1-inch balls and place 2 inches apart on cookie sheets. Flatten cookies with the bottom of a glass dipped in water to about 3/8-inch thick (dip glass in water before flattening each cookie). (Note: If you don't have a glass with a flat bottom, you can use anything with a flat surface.) Bake for 8-10 minutes or just until outer edges begin to turn a light golden brown.
Other recipes you might like: